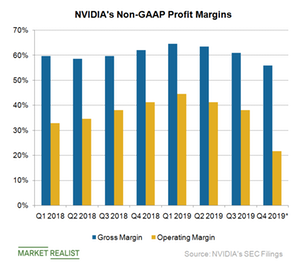 Should Investors Worry about NVIDIA's Gross Margin Guidance?
NVIDIA's gross margin
NVIDIA (NVDA) has reduced its fiscal 2019 fourth-quarter revenue guidance by $500 million to account for weak demand for its Turing-based RTX gaming GPUs (graphics processing units) and data center GPUs. Weak revenue will likely impact its profitability as well.
NVIDIA has lowered its non-GAAP (generally accepted accounting principle) gross profit guidance by $456 million to $1.2 billion. This decline includes a charge of $120 million for keeping an excess inventory of DRAM (dynamic random access memory) and other components. Micron Technology (MU), in its fiscal 2019 first-quarter earnings call, stated that its DRAM demand fell as graphics, enterprise, and cloud customers stored excess memory inventory over fears of a supply shortage.
Article continues below advertisement
NVIDIA's non-GAAP gross margin is expected to fall to 56% in the fourth quarter of fiscal 2019 from the previously guided margin of 62.5%. Excluding the impact of high inventory of DRAM and other components, its gross margin is expected to fall to 61.36%. Other factors affecting NVIDIA's gross margin include weak product mix as demand for its high-margin gaming and data center products slowed.
On the other hand, rival Advanced Micro Devices (AMD) reported a fourth-quarter gross margin of 41% in line with its guidance. The margin was driven by a higher mix of data center processors. NVIDIA's gross margin will likely revive in one or two quarters as it absorbs excess DRAM inventory.
Operating expense
NVIDIA maintained its fiscal 2019 fourth-quarter non-GAAP operating expense guidance at $755 million. However, a significant decline in revenue and gross profit will reduce the base for operating expense, thereby reducing its operating profit guidance from $931.5 million to $477 million, equating to an operating margin of 21.7%. The revised guidance shows that operating profit will fall 60% YoY.
The decline in profit margins comes from a one-time memory inventory charge that should be absorbed as demand rises. NVIDIA's long-term growth from secular demand in AI (artificial intelligence), autonomous driving, gaming, and visuals remain intact.
Next, we will see where analysts see NVIDIA in a year's time.
Check out all the data we have added to our quote pages. Now you can get a valuation snapshot, earnings and revenue estimates, and historical data as well as dividend info. Take a look!