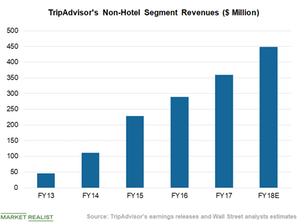 Non-Hotel Segment: TripAdvisor's Key Revenue Growth Driver
Non-Hotel segment
TripAdvisor (TRIP) is one of the well-known travel sites globally. Online hotel bookings account for most of TripAdvisor's business. In the last few years, the company has been focusing more on its non-hotel businesses to drive its revenues and margins.
TripAdvisor's Non-Hotel segment, which includes revenues from vacation rentals, restaurants, and attractions, has grown rapidly in the last few years. The segment's yearly revenues grew from $46 million in 2013 to $360 million in 2017. For 2018, analysts expect TripAdvisor to report non-hotel revenues of $449 million—YoY (year-over-year) growth of ~25%.
Article continues below advertisement
In the third quarter, TripAdvisor's non-hotel revenues increased 20% YoY to $153 million and accounted for 33% of the company's total revenues. The strong YoY revenue growth in the Non-Hotel segment more than offset the dismal performance in the company's Hotel segment, which registered a 2% decline in its revenues. As a result, TripAdvisor managed to report a 4% YoY increase in its total revenues in the third quarter.
The improving US economy–as depicted from the decent GDP growth rate, healthy job market, and a steady rise in wages—will likely continue to drive the demand for TripAdvisor's non-hotel services. Analysts expect the company to report non-hotel revenues of $96.8 million—YoY growth of ~26%.
What's hurting the Hotel segment?
TripAdvisor struggled throughout 2016 and 2017. A weak performance in TripAdvisor's Hotel segment weighed on the overall revenues and profitability. In 2018, TripAdvisor reported a YoY decline in the Hotel segment's revenues.
The dismal segment performance is mainly due to intensified competition from global players like Expedia (EXPE) and Ctrip.com International (CTRP) as well as regional and local players. Increased competition forced TripAdvisor to go for cut-throat pricing. The company had to spend significantly on marketing to retain its market share. The expenses hurt the Hotel segment's revenues and profitability.
Online hotel booking agencies (PEJ) are also facing a huge competitive threat from Alphabet (GOOGL), which has been aggressively enhancing its own travel products. Hotels are trying to insist that customers book rooms directly through their websites, which helps them avoid paying commissions to online booking sites.