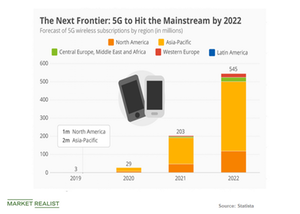 Inside Verizon's Efforts to Cut Costs and Boost Savings
Verizon's cost-cutting efforts 
Verizon (VZ), the largest US wireless service provider, has been undertaking measures to boost its savings by cutting costs. The company is in the process of delivering on its plan to achieve $10 billion in cumulative cash savings by 2021 so that it can invest in key areas such as 5G (fifth-generation) network development.
According to its voluntary separation program, Verizon offered up to 44,000 employees—30% of its total workforce—the opportunity to take early retirement in October 2018. Around 7% of the company's employees, or 10,400 people, reportedly accepted buyouts, which included 60 weeks of salary bonus and benefits. They're expected to leave the company in mid-2019.
Verizon's cost-saving initiative also includes zero-based budgeting, which has realized ~$2.3 billion in cumulative cash savings in 2018. The company's ongoing cost-cutting efforts have therefore boosted its profitability.
Article continues below advertisement
Verizon's 5G development 
Verizon has been investing aggressively in its next-generation 5G network this year. To help it compete with its rivals, the company launched its 5G Home Internet service in October 2018 in a few US markets, including Houston, Indianapolis, Los Angeles, and Sacramento. Existing customers in these markets can get the 5G Home service for $50 per month, while new customers will have to pay $70 per month. Verizon aims to reach 30 million households with its 5G Home service in the United States over an unspecified period.
Verizon 5G Home currently delivers regular speeds of 300 Mbps and attains a peak speed of 1 Gbps depending on the customer's location. In early December, the company announced that it was planning to double 5G Home speeds within the next six months. Verizon is planning on expanding its 5G Home offering into other businesses related to home Internet, such as home automation.
Competition for 5G
Verizon's wireless competitors AT&T (T), T-Mobile (TMUS), and Sprint (S) are also working on 5G network deployment. AT&T's mobile 5G service went live in 12 cities, including Houston and Indianapolis, on December 21.
Mobile carrier T-Mobile is looking to merge with telecommunications rival Sprint, and they're targeting a 5G launch in the first half of 2019. Dish Network (DISH) also has plans to build a 5G network as it seeks to diversify outside its core satellite TV market. According to research by Statista, the number of 5G wireless subscriptions is expected to reach 545 million by 2022.