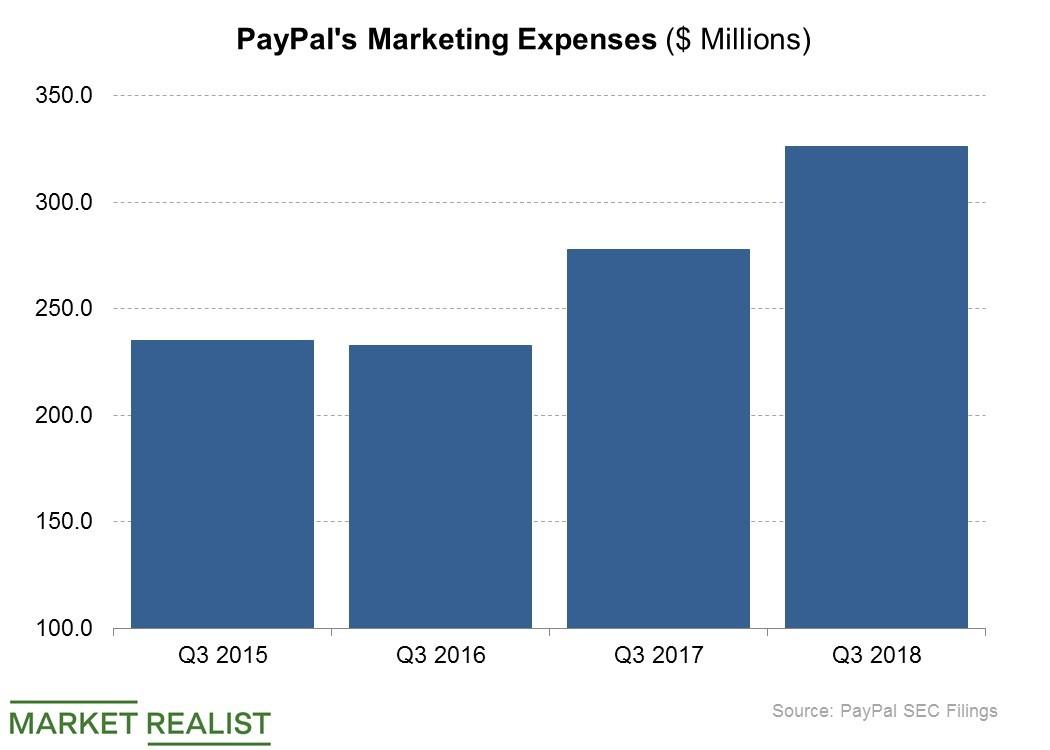 Inside PayPal's Marketing Spending
Marketing spending on the rise
PayPal (PYPL) spent $326 million on marketing activities in the third quarter compared to $313 million in the second quarter and $285 million in the first quarter. PayPal split from eBay (EBAY) and began its life as an independent public company in 2015. Its marketing expenses have mostly been trending upward ever since. The company's marketing expenses were $278 million in the third quarter of 2017 and $233 million in the third quarter of 2016.
PayPal's marketing expenses have been going up, as the company invests in promoting new products that it creates, expands in certain markets, and fights growing competition.
Article continues below advertisement
Promoting products and tackling competition
Recently, PayPal has been working to promote its Venmo service to merchants to adopt it as a checkout option and to consumers to adopt it as a service for receiving and sending money to family and friends, and to pay for purchases. PayPal launched domestic operations in India in November 2017, and in July this year, it launched a brand campaign in the country. Early this month, PayPal launched its business lending service in Germany.
Pushing back against competitors such as Square (SQ) may also be a reason behind PayPal's rising marketing expenses. Square now challenges PayPal in many areas from processing payments to advancing loans to merchants and consumers. Shopify (SHOP) also competes with PayPal in merchant lending. Shopify issued $76.4 million to merchants in the third quarter through its Shopify Capital cash advance program.
Tight competition is driving marketing expenses
PayPal aside, payments companies are generally spending more on marketing activities. For example, Square's marketing expenses rose 75% YoY in the third quarter, and Alibaba's (BABA) Ant Financial affiliate plunged into a loss in the quarter amid increased investments to pull new customers.