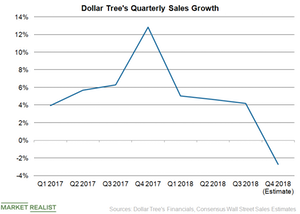 Can Dollar Tree Deliver Better Sales in 2019?
By Sirisha Bhogaraju

Jan. 31 2019, Updated 3:30 p.m. ET
Fiscal 2018 sales performance
Dollar Tree's (DLTR) sales grew 4.6% to $16.6 billion in the first nine months of fiscal 2018, which ended on November 3, 2018. This growth was primarily the result of a 7.2% rise in the sales of the Dollar Tree banner stores to $8.4 billion. Sales of the company's Family Dollar stores grew 2.1% to $8.2 billion.
The company's same-store sales increased 1.4% driven by a 3.3% rise in the same-store sales of its Dollar Tree banner partially offset by a 0.4% fall in the same-store sales of its Family Dollar banner.
Article continues below advertisement
Will strategic efforts boost sales?
Analysts expect Dollar Tree's sales to fall 2.7% to $6.2 billion in the fourth quarter of fiscal 2018, which ends on February 2, 2019. The weakness in the Family Dollar banner's sales is expected to adversely affect the company's top line growth. In fiscal 2018, analysts expect Dollar Tree's sales to rise 2.7% to $22.8 billion. Currently, analysts expect a 4.6% rise in Dollar Tree's fiscal 2019 sales.
Rival Dollar General's (DG) sales are expected to increase 9.0% to $25.6 billion in fiscal 2018 and 7.5% in fiscal 2019.
Dollar Tree expects its fiscal 2018 fourth-quarter sales to be in the $6.10 billion–$6.21 billion range and its fiscal 2018 sales to be in the $22.72 billion–$22.83 billion range.
Dollar Tree's strategic initiatives aim to turn the Family Dollar business around and boost its overall sales. The company renovated over 150 Family Dollar stores in the third quarter of fiscal 2018. Through these renovations, the company is trying to enhance the customer shopping experience at its Family Dollar stores and expand its product assortment in the beverages and snacks, haircare, and food categories. Dollar Tree has also been adding additional coolers and freezers. Since the Family Dollar acquisition in 2015, Dollar Tree has renovated 865 Family Dollar stores, and it intends to renovate at least 1,000 stores in fiscal 2019.
The company has also re-bannered 354 Family Dollar stores to the Dollar Tree brand since the acquisition, and it plans to convert 200 additional stores in fiscal 2019. Dollar Tree has closed 195 Family Dollar stores so far as part of its optimization efforts.
In fiscal 2019, Dollar Tree plans to open 350 Dollar Tree banner stores and 200 Family Dollar stores. To improve sales at its Dollar Tree banner stores, the company continues to add frozen and refrigerated merchandise to more locations and roll out the Snack Zone to additional stores.