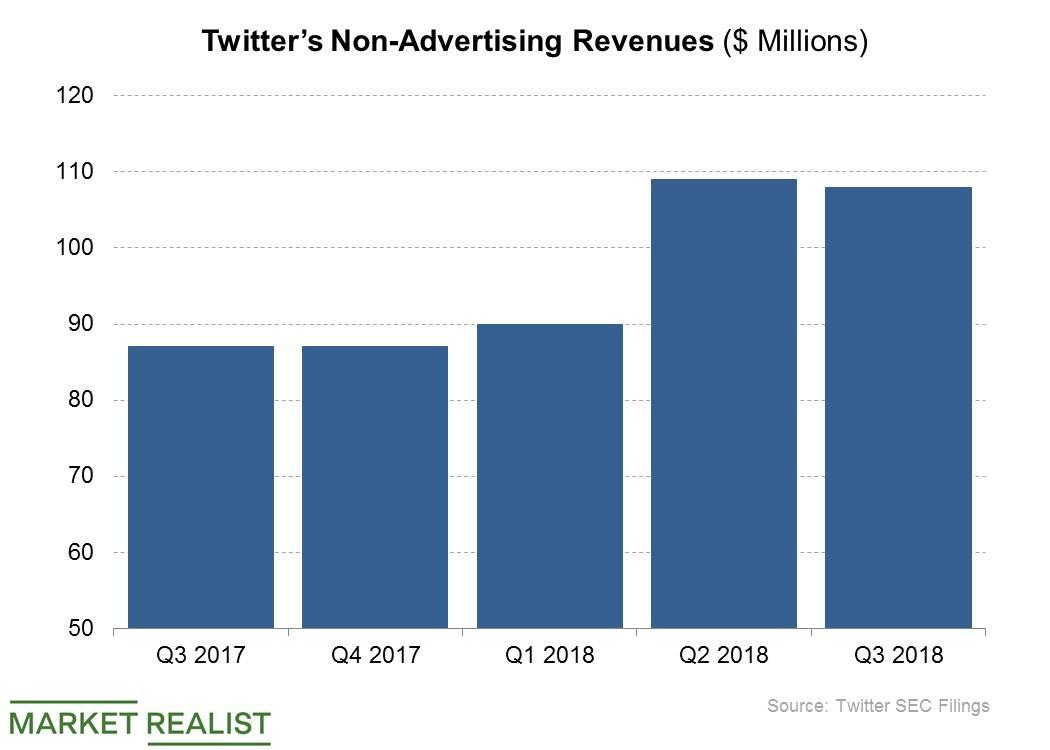 A Look at Twitter's Data Business
Non-advertising revenue jumped 25%
As Twitter (TWTR) gears up to report its results for the fourth quarter of 2018, a lot of attention is being given to its data licensing business. In the third quarter, the company generated $108 million from its non-advertising operations, representing a rise of 25% YoY (year-over-year). At Facebook (FB) and Alphabet (GOOGL), non-advertising revenues rose 1.0% and 29.7% YoY, respectively, in the quarter. Baidu (BIDU) grew its non-advertising revenue 80% YoY in the quarter.
Amid tightening competition for advertising revenue, companies such as Twitter are seeking out new ways to create revenue sources outside of advertising even as they continue to pursue ad revenue.
Article continues below advertisement
Article continues below advertisement
Twitter sees a bright future for its data business
Data licensing is the pillar of Twitter's non-advertising business. Brands and organizations come to Twitter for data they can use to launch new products or inform their marketing campaigns. In October 2018, Twitter said that it sees more opportunities ahead in its data business. It expects to gain more data clients and forge deeper ties with existing ones. Twitter's data licensing business has been growing at a double-digit rate.
Recruiting advertisers
In licensing data to brands, Twitter also has the opportunity to meet potential advertisers. Unlike Facebook, Baidu, and Yelp (YELP), Twitter doesn't currently disclose the size of its advertiser base. Facebook closed the third quarter with more than 6.0 million advertisers, while Baidu and Yelp exited the quarter with 522,000 and 194,000 advertisers, respectively.