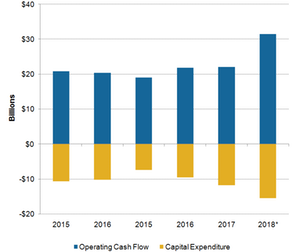 What Factors Could Influence Intel's Capex in 2019?
By Puja Tayal

Updated
Intel's 2018 operating cash flow
Intel (INTC) is spending big on stock buybacks in 2018 driven by large cash flows coming from high PC and data center revenue.
In the first nine months of 2018, the company's OCF (operating cash flow) rose 51% YoY (year-over-year) to $22.5 billion. The company is expected to earn $8.5 billion in OCF in the fourth quarter, bringing its full-year OCF to $31.0 billion.
Intel is expected to spend $15.5 billion on capex, as it has allocated an additional $1 billion worth of capital to increasing the capacity of its 14 nm (nanometer) manufacturing node. The company made this additional investment to meet an unexpected increase in PC and server demand that its existing capacity couldn't.
Article continues below advertisement
Intel's 2019 capex
Next year could be heavy on capital spending, as Intel plans to begin production on its next-generation 10 nm manufacturing node and produce nonvolatile memory chips in-house. At present, Intel manufactures memory chips in a joint venture with Micron Technology (MU). The two companies have ended this joint venture, and Micron is buying the 3D XPoint factory owned by the joint venture, where Intel manufactures its Optane memory chips.
On Intel's third-quarter earnings call, CFO and interim CEO Robert Swan didn't specify the amount the company plans to allocate to 2019 capital spending, but he stated that spending on logic chips is expected to be higher, and spending on memory chips is expected to be lower compared to 2018.
Swan stated that Intel's 2019 capital budget would depend on three factors: the demand for its 14 nm products, its progress on 10 nm yields, and its progress on the 7 nm node. Intel has delayed its 10 nm node by four years, giving rivals TSMC (TSM) and Samsung (SSNLF) time to bridge the technology gap and even overtake Intel. The two foundries are already manufacturing on their 7 nm nodes, while Intel's competing 10 nm node is unlikely to start production before 2019.
On the memory front, Intel's capital spending will be lower, as the capital needed to manufacture nonvolatile memory chips will be paid for by prepaid supply agreements.
Next, let's see how effective Intel's investments are at delivering returns.