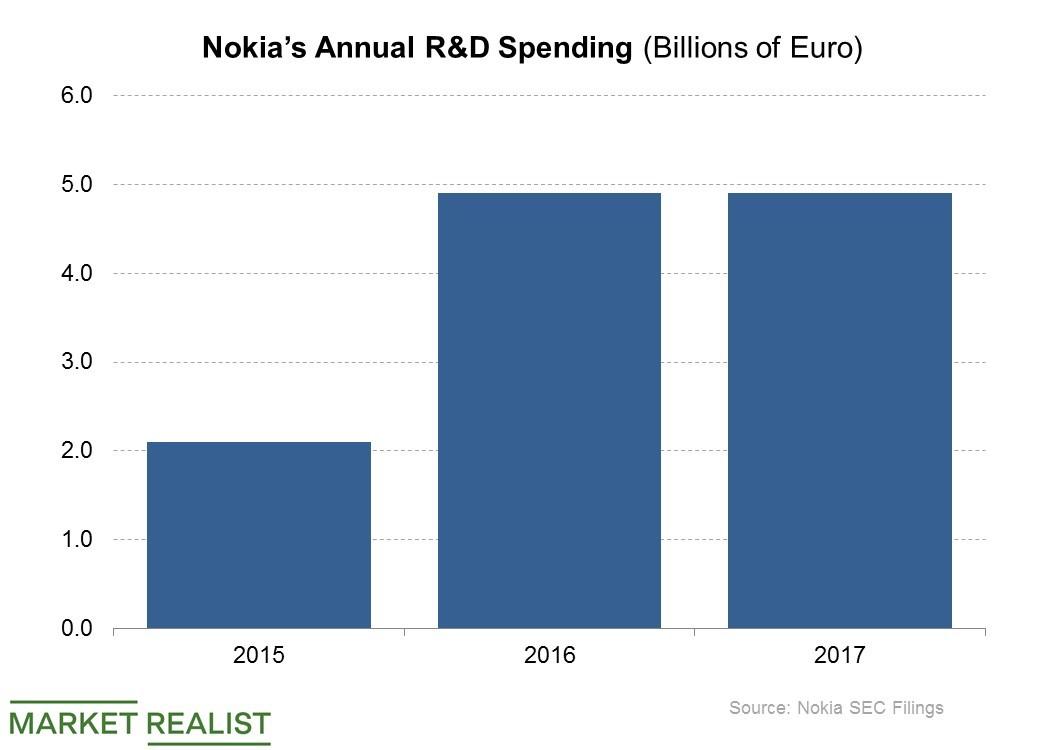 What Does Nokia Spend on Research and Development?
Nokia spends good chunk of revenue on R&D
Since August, Nokia (NOK) has secured at least 750 million euros in financing committed from two European banks, mostly for its 5G-related research and development (or R&D) initiatives. Nokia typically spends big on R&D. In 2017, R&D spending represented 21.2% of Nokia's total revenue in the year. That marked an increase from the previous two years. In 2016, Nokia spent 20.8% of its total revenue in the year on financing R&D projects. In 2015, it spent 16.8% of its total revenue to finance R&D.
Article continues below advertisement
Nokia beats Ericsson in R&D budget allocation
In the most recent quarter ending on September 30, Nokia generated revenue of 5.5 billion euros and invested 1.1 billion euros in R&D, representing 20% of the revenue for the quarter. Ericsson (ERIC) spent 17.5% of revenue in September to finance R&D programs. Like Nokia, Ericsson is also busy with 5G-related R&D projects.
Network gear vendor Cisco Systems (CSCO) spent 12.2% of its revenue on R&D in its most recent quarter ending in October. Juniper Networks (JNPR) and Arista Networks (ANET) spent 20.8% and 20.9% of their revenues on R&D, respectively, in the September quarter.
Going beyond the telecom sector
After going through several years of declining sales amid a peak in 4G equipment demand, Nokia is betting big on 5G technology to turn around its fortunes, which explains why the company is busy preparing financing for its 5G-related R&D initiatives. With 5G, Nokia is looking beyond the telecom sector for markets for its 5G equipment. The company has created a special division focused on selling network equipment to non-telecom enterprise customers in sectors such as transportation and energy.