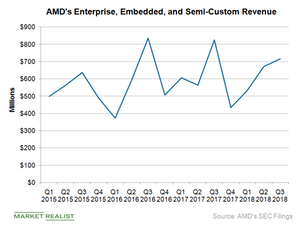 What AMD's Game Console Business Means to Investors
AMD's console business
So far, we've seen that Advanced Micro Devices (AMD) is looking to grow in the server market by offering better price-to-performance CPUs (central processing units) and GPUs (graphics processing units). However, the game console market continues to be important for AMD, as its semi-custom APUs (accelerated processing units) power Sony's (SNE) and Microsoft's (MSFT) game consoles.
As game consoles have six-to-seven-year product lifecycles, AMD's semi-custom revenue growth has diminished YoY (year-over-year). The segment is the most profitable when there is a product refresh or new product cycle.
Article continues below advertisement
It has been five years since the launch of Sony's PS4 (PlayStation 4). During this period, the company shipped over 80 million PS4 units powered by AMD APUs. It also launched a PS4 refresh in November 2016, which boosted AMD's EESC (Enterprise, Embedded, and Semi-Custom) revenue 31% YoY (year-over-year) to a peak of $835 million in the third quarter of 2016. AMD's semi-custom sales are far higher than its GPU sales, making consoles an important part of its business.
Sony's upcoming PlayStation 5
Sony is working with AMD on the PS5 (PlayStation 5), which is rumored to hit the market sometime in 2020. Reddit user RuthenicCookie expects the PS5 to be launched either in March or November 2020, priced at $500 and powered by AMD's eight-core Ryzen CPU. According to Wccftech, the PS5 is set to feature AMD's 7nm (nanometer) Navi 10 GPU, which is expected to arrive in the second half of 2019 or early 2020, just in time for the PS5 launch. As we saw earlier, the Navi is not believed to support ray tracing, which means Sony's PS5 likely won't offer ray tracing.
AMD's Navi GPU is set to be scalable and flexible for both GDDR6 (graphics double data rate) and HBM2 (high bandwidth memory). However, the PS5 is more likely to have GDDR6 memory, as its predecessors, the PS4/Pro and Microsoft's Xbox One X, use GDDR5 memory. While AMD's 2019 sales could be driven by data center products, its 2020 sales could be driven by game consoles. Next, we'll see what analysts think about AMD.
Check out all the data we have added to our quote pages. Now you can get a valuation snapshot, earnings and revenue estimates, and historical data as well as dividend info. Take a look!