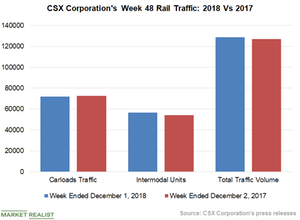 Strong Intermodal Growth Drove CSX's Total Traffic in Week 48
By Anirudha Bhagat

Dec. 7 2018, Updated 11:45 a.m. ET
Intermodal traffic increased
CSX's (CSX) rail traffic volume grew 1.5% YoY to 128,821 units mainly driven by robust intermodal growth, partially offset by a decline in carload traffic. In the first 48 weeks of 2018, the company recorded a 1.3% YoY increase in railcar traffic. However, CSX's rail traffic gains were lower than US railroad (IYT) companies' 3.7% gain during the same period.
In week 48, CSX's intermodal traffic expanded 4.4% YoY to 56,735 containers and trailers from 54,365 units in the same period last year. The company carried 53,510 containers in week 48 compared to 51,121 containers in the same week of the previous year. The company's trailer volumes expanded 2.6% YoY to 3,225 units compared to 3,144 units in week 48 of 2017.
Article continues below advertisement
The railroad company's intermodal volume gain was the second highest among all of the Class I railroad companies. Union Pacific (UNP) had the highest intermodal traffic gain of 11.2%. Kansas City (KSU) and Norfolk Southern (NSC) were the other two railroad companies that registered YoY improvement in intermodal traffic. Kansas City and Norfolk Southern recorded a YoY gain of 2.3% and 3.7%, respectively, in their intermodal units.
Carload traffic fell in week 48
CSX reported a 0.7% YoY fall in its carload traffic in week 48. The company pulled 72,086 railcars excluding intermodal units in week 48 compared to 72,562 units in week 48 of 2017.
CSX's carloads of commodity groups except coal and coke accounted for 74% of its total carload traffic in week 48. The company's coal and coke traffic accounted for 26% of its total carloads. Commodity groups excluding coal and coke decreased 0.4% YoY in week 48 to 53,506 railcars from 53,734 railcars. The coal and coke traffic declined 1.3% YoY to 18,580 carloads from 18,828 carloads.
The commodity groups excluding coal and coke that reported notable volume growth in week 48 were grain, food products, petroleum and related products, forest products, metal products, pulp and paper products, and metallic ores. The commodity groups that recorded a YoY decline in the volumes in week 48 included farm products, chemicals, non-metallic minerals, crushed stone, sand and gravel, and motor vehicles and parts.
In the next part, we'll look at Canadian Pacific's railroad traffic growth.