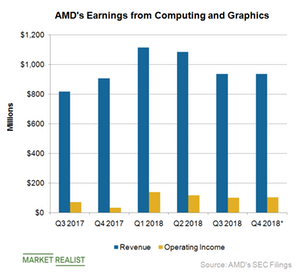 Strengths and Weakness of AMD's Computing and Graphics Segment
AMD's computing and graphics segment
Advanced Micro Devices (AMD) is the only company that offers both CPUs (central processing units) and GPUs (graphics processing units) for PCs and servers. This broad portfolio gives it the advantage of integrating CPUs and GPUs to create APUs (application processing units), which can be used in PCs, servers, and game consoles.
AMD sells its chips to PC and server OEMs (original equipment manufacturers) such as HP Inc. and Dell, which integrate these chips into their PC and server models. AMD also sells its chips to the channel, which sells them to end consumers such as crypto miners.
Article continues below advertisement
Revenue
AMD earns more than 55% of its revenue from its CG (computing and graphics) segment. The second half of the year is seasonally stronger than the first half for this segment, as back-to-school and holiday sales pick up. However, CG earnings deviated from normal seasonality this year.
As shown in the above graph, CG revenue rose 23% sequentially and 94% YoY (year-over-year) to $1.15 billion in the first quarter as the crypto trend peaked and drove channel GPU sales. However, the crypto trend then weakened and gains faded, resulting in sequential revenue declines of 2.6% and 13.6% in the second and third quarters, respectively.
However, CG revenue rose 12.0% YoY in the third quarter as declines in crypto-related channel GPUs were partially offset by strong PC, CPU, and OEM GPU sales. Intel (INTC) reported better-than-expected PC sales, while NVIDIA (NVDA) missed its third-quarter sales estimate due to weak channel GPU sales.
Operating income
Despite revenue declines, AMD's CG operating margin narrowed by just ten basis points sequentially to 10.7% in the third quarter as a richer CPU product mix and IP (intellectual property) revenue offset losses from lower channel GPU sales.
AMD is unlikely to receive the benefit of IP revenue in the fourth quarter, but the CG segment could continue to post a profit due to higher client average selling prices. Next, we'll look at AMD's client business.
Check out all the data we have added to our quote pages. Now you can get a valuation snapshot, earnings and revenue estimates, and historical data as well as dividend info. Take a look!