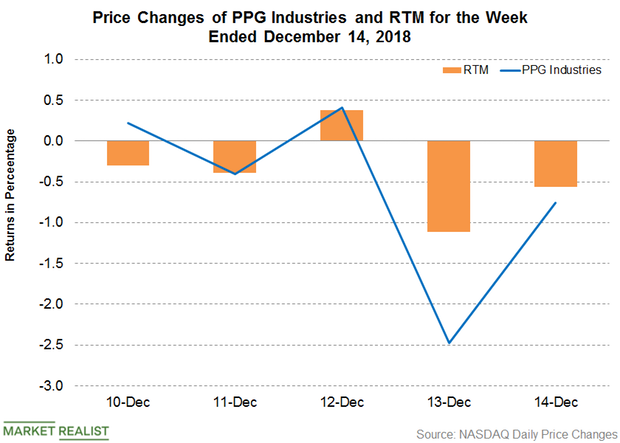 PPG Industries: Investment and Stock Price Update
Increased investment
In a press release on December 13, PPG Industries (PPG) revealed that it's set to increase its investment in automated dispense cell manufacturing of paint and related coatings. The move is a boost to the automotive parts and accessories decorative (APAD) space. This technology will help PPG Industries increase the production and approve paint batches to vehicle original equipment manufacturers and component suppliers faster.
Article continues below advertisement
PPG Industries already has investments in the technology in Germany, Russia, Spain, and China. The company also opened dispense cell operations in San Juan del Rio, Mexico. PPG Industries is set for additional production in Sriperumbudur, India in 2019. PPG Industries is committed to investing $1 billion in capital deployment for future growth in the fourth quarter.
Rodger Lee Pelo, the general manager of PPG Industries' APAD division, said, "PPG's automated dispense cell technology has greatly improved paint and coatings production for our customers around the world. Our expansion of this unique capability reinforces PPG's commitment to the APAD space and enables us to react much faster to customer needs while increasing product consistency and color accuracy."
Stock price updates
Due to continued weakness in the market, PPG Industries stock fell 3.0% and closed at $100.14 for the week ending December 14. The decline in the stock price pushed the stock to trade 6.8% below the 100-day moving average price of $107.60. PPG Industries' 100-day moving average price has fallen from the high of $117.65 to the current levels, which indicates sluggishness in the stock.
On a year-to-date basis, PPG Industries stock has extended its loss to ~15.3%. RPM International (RPM) has gained 15.3%, while Sherwin-Wiliams (SHW) and Axalta (AXTA) have fallen 5.9% and 31.3%, respectively.
PPG's 14-day relative strength index is at 35, which indicates that it might be heading towards the oversold position. A bounce back is possible from these levels.
Investors could hold PPG Industries indirectly by investing in the Guggenheim S&P 500 Equal Weight Materials ETF (RTM). RTM fell 2.0% during the week. RTM invests 4.1% of its portfolio in PPG Industries.