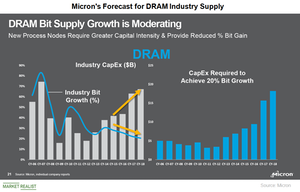 Micron Expects DRAM Supply to Exceed Demand in 2019
Micron's DRAM industry supply outlook
DRAM[1.dynamic random access memory] prices are governed by supply and demand. Previously, we saw that DRAM demand is strong, but high inventory has reduced DRAM demand. Let's look at the supply side of the story.
The DRAM market's three major players—Samsung (SSNLF), SK Hynix, and Micron Technology (MU)—together command more than 95% of the market. In the industry downturn in early 2016, the three suppliers increased their capacity significantly, reducing DRAM prices to the point that their margins suffered. Micron reported losses.
Article continues below advertisement
Having learned from their experience, the three suppliers are maintaining supply discipline and investing in transitioning their technology instead of expanding their capacity. They are quick to react to changing DRAM demand and capital spending. In calendar 2019, Micron expects DRAM industry supply to grow more than demand (which is set to grow 16%), even after factoring in capital spending cuts in the industry.
Micron's 2019 DRAM supply
During Micron's fiscal 2019 first-quarter earnings call, CEO Sanjay Mehrotra stated that the company plans to lower its DRAM output growth from 20% to 15% in calendar 2019, and has therefore reduced its capital spending. This spending cut could reduce Micron's DRAM bit shipments in the February 2019 quarter to the previous year's level or lower.
Micron's DRAM technology transition
Even though Micron has reduced its capital spending, it plans to continue to invest in advanced technology to reduce costs and stay competitive with Samsung and SK Hynix. Mehrotra stated that, in fiscal 2019's first quarter, Micron produced more than 50% of its DRAM output on the 1X node and started generating revenue from its 1Y DRAM.
Micron expects to generate a meaningful yield from the 1Y node in the next six months, one year ahead of schedule. Mehrotra added that the company has started work on 1Z technology, but he did not give details. The company has accelerated its technology transition to achieve cost leadership. Next, we'll look at Micron's NAND[2.negative AND] industry outlook.
Check out all the data we have added to our quote pages. Now you can get a valuation snapshot, earnings and revenue estimates, and historical data as well as dividend info. Take a look!