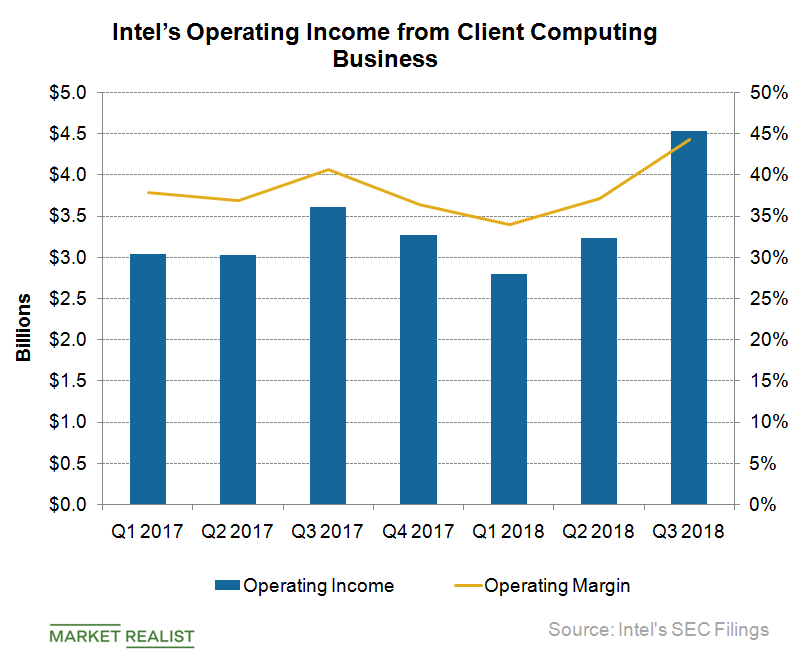 Intel's Profits Largely Depend on Client Computing Group
Intel's Client Computing Group
So far, we have seen that Intel (INTC) is expanding its PC TAM (total addressable market) and segmenting its offerings in the high-end market to continue making a profit in the declining PC market. Even though the company is transitioning to a data-centric business, CCG (Client Computing Group) forms a major part of its earnings. CCG contributes more than 50% towards Intel's revenue and more than 57% towards its operating income. Data center is Intel's most profitable business, but CCG is its second-most profitable business.
Article continues below advertisement
CCG's profits
CCG's profits are a product of ASP (average selling price), volume, and operating expense. Intel has been focusing on increasing its ASP. The third quarter is seasonally strong for CCG in terms of volume sales, as PC vendors prepare for the holiday season.
As the above graph shows, there was 75% sequential growth in operating income, which spiked its operating margin by 11 percentage points to 37%. This growth came as the company implemented its product segmentation strategy, which increased CCG's ASP.
This segmentation strategy helped CCG improve its third-quarter operating margin every year from 37% in the third quarter of 2016 to 41% in the third quarter of 2017 to 44% in the third quarter of 2018. It remains to be seen if Intel can maintain this growth trend in the third quarter of 2019 when rival Advanced Micro Devices (AMD) overtakes it in process node technology.
2019
Until 2018, Intel was unbeaten in the manufacturing node. Although AMD launched competitive products, it failed to beat Intel in terms of performance. In 2019, AMD will likely overtake Intel in the process node technology with its 7-nm (nanometer) Ryzen processors, while Intel's competitive 10-nm PC processors will not arrive before the end of 2019.
We cannot say how AMD's 7-nm products would impact Intel's Client Computing ASP. Thus, 2019 will be an important year for Intel and a more important year for AMD.
Check out all the data we have added to our quote pages. Now you can get a valuation snapshot, earnings and revenue estimates, and historical data as well as dividend info. Take a look!