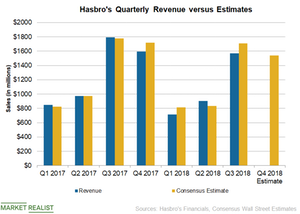 Hasbro's Revenue Performance Has Been Unimpressive in 2018
Recent trends
In the trailing 11 quarters, Hasbro (HAS) has beaten top line estimates eight times and missed estimates three times.
The company has missed analysts' projections in two out of three quarters in 2018 so far. On a YoY (year-over-year) basis, its revenue fell 15.7%, 7.0%, and 12.4%, respectively in the first three quarters of 2018.
Hasbro's top lines in the United States, the Asia-Pacific, and Europe continue to be affected by the Toys "R" Us store closures. A subdued macroeconomic environment and a fast-changing retail landscape have been major deterrents for it across Brazil, Europe, and Russia. Its retail inventory clearance woes have also been dampening its European revenue.
In the fourth quarter, analysts expect Hasbro's revenue to fall 3.7% YoY to $1.54 billion, a deterioration compared to the 2.1% fall it saw in the fourth quarter of 2017. For the full year, the company's revenue is expected to fall 9.2% to $4.73 billion.
Article continues below advertisement
Hasbro is stressing product innovation as the way forward. Several product lines based on the Walt Disney Company's lucrative properties are expected to add to the company's top line in 2019. Over the next year, Disney has an enviable movie line-up, including movies such as Captain Marvel, Aladdin, Toy Story 4, the live-action version of The Lion King, and the highly anticipated Avengers: Endgame, Frozen 2, and Star Wars: Episode IX.
Nerf is working on launching a line of accessories for Overwatch and Fortnite. Power Rangers products from Hasbro are also expected to be on the shelves in spring 2019. The company acquired the rights to Saban Properties' Power Rangers for $522 million earlier this year.
Peers' top line trends
In comparison, Mattel (MAT) beat analysts' top line estimate in the first quarter but missed their estimates in the second and third quarters. The Toys "R" Us liquidation, soft business trends in China, and weakness in its Toy Box, American Girl, Fisher-Price, and Thomas & Friends lines compounded its troubles.
Jakks Pacific (JAKK) beat analysts' estimates in two quarters and missed their estimate in one quarter in 2018. On a YoY basis, its sales have fallen in all three quarters of the year so far. Toys "R" Us was the primary contributor, offsetting the benefits of strong sales of products such as Incredibles 2 and Squish-Dee-Lish toys.