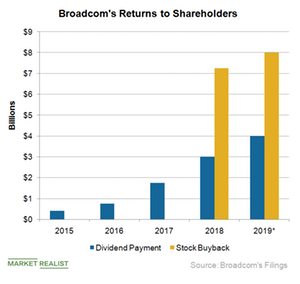 Checking In on Broadcom's Stock Buyback
Broadcom's stock buyback program
As we've discussed, Qualcomm (QCOM) announced the semiconductor industry's biggest stock buyback, of $30 billion, to revive investors' confidence in its potential to deliver earnings growth organically without acquiring NXP Semiconductors (NXPI). Broadcom (AVGO), on the other hand, has been increasing its profit margins and cash flow by acquiring distressed companies with high cash flow. Its strategy is to increase its cash flow and give returns to shareholders through dividends, stock buybacks, and strategic acquisitions. This strategy increased its operating cash flow almost fourfold between fiscal 2015 and fiscal 2018, from $2.3 billion to $8.9 billion.
Article continues below advertisement
Broadcom's capital allocation strategy
Broadcom's capital allocation policy is to spend 50% of its trailing-12-month free cash flow in dividends and use the remaining for acquisitions and buybacks. The policy does not obligate the company to buy back a certain number of shares or pay a dividend for a fixed period.
Broadcom makes buyback decisions depending on its stock price, other investment opportunities, and business and market conditions. In fiscal 2018, the company announced a $12 billion buyback as its stock started to decline after its investment opportunity to acquire Qualcomm was blocked by Donald Trump. Broadcom took advantage of its lower stock price and repurchased $7.25 billion in stock in fiscal 2018.
Broadcom plans to allocate an additional $8 billion to stock buybacks in fiscal 2019, as its recent acquisition of CA Technologies is expected to increase its fiscal 2019 operating cash flow to $10 billion from $8.8 billion in fiscal 2018. Next, we'll look at Micron Technology's stock buyback program.
Check out all the data we have added to our quote pages. Now you can get a valuation snapshot, earnings and revenue estimates, and historical data as well as dividend info. Take a look!