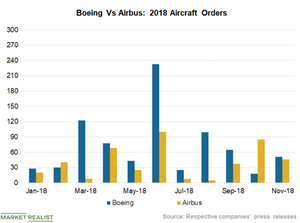 Boeing Winning the 2018 Aircraft Order Race against Rival Airbus
Boeing's orders surpass Airbus's
Boeing (BA) has been lagging behind Airbus in the order-booking race for the past few years. However, the company seems set on breaking that record this year. YTD (year-to-date) through November, Boeing booked 792 gross firm aircraft orders.
Among the major US air carriers, United Continental (UAL) ordered 13, American Airlines (AAL) ordered 25, and Southwest Airlines (LUV) ordered 40 YTD through November. In December so far, the company has booked over 200 aircraft orders.
Among the total YTD-through-November orders, the most bookings came in the second quarter with an order for 354 aircraft. The surge in the company's aircraft orders throughout the year was mainly driven by robust demand for its narrow-body 737 models.
Article continues below advertisement
Of the total orderbook of 180 aircraft, 122 were for the 737 series in the first quarter. In the second quarter, the world's largest aircraft manufacturer booked 255 orders for the 737 out of a total 354 airplanes. Boeing received orders for 137 of the 737 series in the third quarter out of a total orderbook of 189. YTD through November, the company received orders for 568 of the 737 jets out of a total orderbook of 792 planes.
Boeing is also seeing an upswing in orders for its 787 Dreamliner this year. YTD through November, the company received 130 orders for the aircraft, ~33% higher than its 98 orders in 2017. United Continental, American Airlines, and Turkish Airlines have ordered 13, 25, and 25 of the 787 Dreamliner series. In the first, second, and third quarters, Boeing booked 63, 32, and 28 Dreamliners.
Airbus is falling behind
YTD through November, Airbus booked 439 gross orders—mostly in June. Adjusted for cancellations, net orders were only 380 aircraft YTD through November, which is less than half of Boeing's orders. Most of Airbus's YTD-through-November orders were for its wide-body A320 family, at 188 units. Last year, the company received total net orders of 1,207, of which 1,138 were for the A320 family.
The iShares U.S. Aerospace & Defense ETF (ITA) has allocated ~11.4% of its portfolio to Boeing.