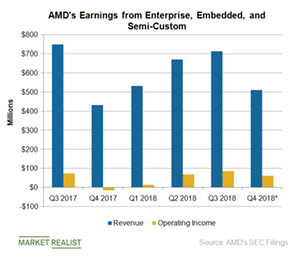 AMD's Enterprise, Embedded, and Semi-Custom Segment
AMD's Enterprise, Embedded, and Semi-Custom segment
Earlier, we saw that Advanced Micro Devices' (AMD) computing business has been strong while its graphics business has been weak. AMD's EESC (Enterprise, Embedded, and Semi-Custom) segment offers EPYC server CPUs (central processing units) for HPC (high-performance computing), OEMs (original equipment manufacturers), the cloud, and enterprises. It also sells semi-custom APUs (accelerated processing units) for game consoles and embedded devices. While game consoles form a large part of the EESC segment, the server business is growing at a faster rate.
Article continues below advertisement
EESC's third-quarter earnings
The second and third quarters are seasonally strong for AMD's EESC segment, as they are when it reports a major portion of its semi-custom revenue from game consoles. EESC's revenue fell 5% YoY (year-over-year) in the third quarter but rose 6.7% sequentially to $715 million. The sequential growth was driven by strong double-digit growth in EPYC server processor units and revenue. However, the revenue declined YoY as current-generation game consoles have entered their sixth year.
An increase in the share of high-margin EPYC processors in the EESC product mix improved the segment's operating margin to 12% in the third quarter. In the fourth quarter, AMD expects the mix of EPYC processors to expand as its adoption increases and that of low-margin semi-custom processors decreases due to normal seasonality. Therefore, we expect EESC's operating margin to widen.
AMD's server CPU market share
During AMD's third-quarter earnings call, CEO Lisa Su stated that the company is on track to achieve a mid-single-digit percentage share of the server unit market by the end of this year, driven by the strong adoption of EPYC processors from cloud customers. The company expects to increase its market share to a double-digit percentage in 2019.
She explained that gaining the first 5% share is difficult because customers are new to Zen architecture. The second 5% share could come faster, as customers would already be accustomed to Zen architecture and its 7nm (nanometer) EPYC CPUs would be more competitive with Intel's (INTC) 14nm Xeon processors. We'll look into AMD's server business next.
Check out all the data we have added to our quote pages. Now you can get a valuation snapshot, earnings and revenue estimates, and historical data as well as dividend info. Take a look!