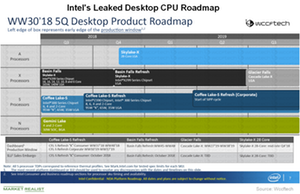 A Look at Intel's Strategy to Address Competition in PC Market
Intel's strategy to increase ASP
Intel's PC revenue growth is largely driven by an increase in ASP. This is visible in its third-quarter earnings, which showed that desktop platform volumes rose just 1%, but ASP rose 10% on a YoY basis. In notebooks, the price impact was less as platform volumes rose 8%, but ASP rose 4% on a YoY basis.
Article continues below advertisement
To keep its ASP high, Intel launched its ninth generation, eight-core, i9-9900K gaming CPU that commands an MSRP (manufacturer's suggested retail price) between $488 and $499. Its price is higher than Core i7-8700K's MSRP between $359 and $370. Intel is further expanding its PC addressable market by introducing new high-end variants.
Intel expands high-end desktop offerings
In 2017, Intel introduced a new platform—Basin Falls—for the high-end desktop market and marketed it as Core X series processors. The new platform was derived from its data center Skylake processors. According to Wccftech, Intel plans to launch a Basin Falls Refresh in the fourth quarter or early 2019. It also plans to launch the next-generation Glacier Falls platform on upcoming Cascade Lake-X processors in the third quarter of 2019. This strategy is similar to AMD's Ryzen Threadripper, which has architecture similar to the EPYC server processor with some cores disabled.
According to the roadmap revealed by Wccftech, Intel also plans to introduce a new A-Series 28-core processor for the ultra high-end market. The roadmap shows that the company plans to begin production of the new processor by the end of 2018. With this, the highest end segment would be the A-Series, followed by X-Series, S-Series, and N-Series.
The roadmap should be taken with a grain of salt, as this is just what the company plans to do right now. Its plans could change as per the market and business conditions. Apart from increasing ASP, Intel is also looking to reduce the cost to boost its computing profits. We'll look into this next.
Check out all the data we have added to our quote pages. Now you can get a valuation snapshot, earnings and revenue estimates, and historical data as well as dividend info. Take a look!