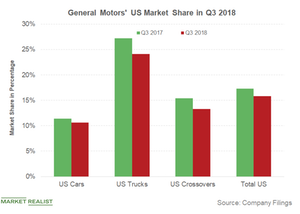 Did General Motors Expect Trump's Criticism?
By Jitendra Parashar

Nov. 20 2020, Updated 12:38 p.m. ET
General Motors 
As we discussed in the previous part, on November 26, General Motors (GM) announced that it plans to close five plants and layoff 15% of its salaried and contract workers. The layoffs include a 25% reduction in the company's employees. However, the move didn't sit with President Trump.
Article continues below advertisement
Trump's criticism was expected
On November 26, right after General Motors announced its plan to cut jobs and shut down five plants, we discussed how President Trump might react. To learn more, read Why Trump Could Slam GM for Its Latest Move to Shut Down Plants.
Here's a list of the plants that General Motors plans to close in 2019:
Oshawa assembly plant in Oshawa, Ontario, Canada
Detroit-Hamtramck assembly plant in Detroit
Lordstown assembly plant in Warren, Ohio
Baltimore Operations in White Marsh, Maryland
Warren Transmission Operations in Warren, Michigan
Four of the five factories are in the United States, which will likely be a direct blow to President Trump's agenda to create more jobs for US workers in the auto industry.
Trump versus the auto industry
President Trump has targeted auto companies (XLY) in the past. Previously, he threatened auto companies including Ford (F) and Toyota (TM). President Trump also criticized Harley-Davidson (HOG). The criticism ranged from closing plants in the United States, shifting manufacturing outside the US, and hurting US employment. In 2016, President Trump started his first presidential debate by criticizing Ford's investments in Mexico. After President Trump's electoral victory, Ford canceled its plans to build a new $1.6 billion manufacturing facility in Mexico.
In January 2017, President Trump targeted General Motors for "sending Mexican made model of Chevy Cruze to U.S. car dealers-tax free across border." General Motors clarified that all of its Chevrolet Cruze sedans, which are sold in the US market, are built in the United States. The company added that only a very small percentage of Chevrolet Cruze hatchbacks, which are built in Mexico, are imported to the US market for sales.
General Motors likely expected President Trump to criticize its plan to close four of its American factories and lay off thousands of workers.
Next, we'll discuss why the closures are important for General Motors.