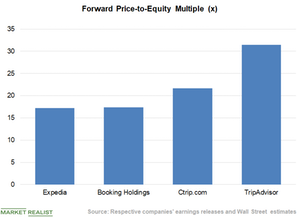 Where Expedia Stands among Its Peers
PE multiple
Currently, Expedia's (EXPE) PE multiple stands at 20.63x. At its current multiple, the stock is trading at a premium valuation to its peers Booking Holdings (BKNG) and Ctrip.com International (CTRP) and at a discount to TripAdvisor (TRIP). Booking Holdings, Ctrip, and TripAdvisor have PE multiples of 20.05x, 17.07x, and 39.44x, respectively.
Based on analysts' earnings forecast for the next 12 months, Expedia is trading at a hefty discount to its peers. Expedia, Booking Holdings, Ctrip, and Trip Advisor have forward PE multiples of 17.22x, 17.38x, 21.70x, and 31.49x, respectively.
Article continues below advertisement
EV-to-EBITDA multiple
The PE multiple is widely used because of its simplicity, but it has some flaws. Earnings can be manipulated easily, which can make the multiple meaningless. Let's compare these companies based on their EV-to-EBITDA (enterprise value-to-EBITDA) multiples.
Currently, Expedia has an EV-to-EBITDA multiple of 11.03x, which is lower than those of its peers. Booking Holdings, Ctrip, and TripAdvisor have EV-to-EBITDA multiples of 14.71x, 32.68x, and 26.15x, respectively.
Share performance
Shares of Expedia have remained highly volatile in 2018 so far. The stock has gained momentum every time it's reported its quarterly results this year, but it's always lost momentum within a few days due to its long-term growth concerns.
Year-to-date, EXPE has fallen 6.8%, significantly underperforming the returns of its top peers Booking Holdings and TripAdvisor, which have risen 1.9% and 71.6%, respectively. On the other hand, Ctrip stock has plunged 42.4%.
Expedia makes up ~2.5% of the SPDR S&P Internet ETF (XWEB).