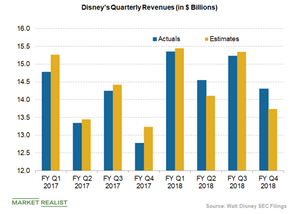 What's Affecting Disney's Revenue Growth?
Disney's revenue trend
The Walt Disney Company's (DIS) revenue of $14.3 billion exceeded analysts' consensus expectation of $13.73 billion in the fourth quarter of fiscal 2018. The company has missed revenue estimates in six of the past seven quarters. Its total revenue rose ~12% YoY (year-over-year) from $12.78 billion in the fourth quarter of fiscal 2017, but it fell ~6% from the previous quarter's $15.23 billion.
In comparison, media peers Comcast (CMCSA) and Netflix (NFLX) beat the consensus estimates for revenue in their recently reported third quarters. Comcast's revenue topped the consensus estimate by 1.4%, while Netflix's revenue beat the estimate by a marginal 0.05%. Cable company Dish Network's (DISH) revenue of $3.395 billion also slightly beat the estimate by 0.1% in the third quarter.
Article continues below advertisement
Revenue drivers
Disney's theme parks and blockbuster movies have been the driving forces behind the company's revenue for the past several quarters. In the fourth quarter, Disney's revenue was also driven by its Parks and Resorts segment along with its Studio Entertainment segment.
While its Parks and Resorts revenue improved 9% due to rising demand for theme parks, its Studio Entertainment revenue rose a whopping 50% YoY in the quarter backed by growth in its theatrical, SVOD (subscription video on demand), and home entertainment distribution results. Avengers: Infinity War and Incredibles 2 continued to perform well in the quarter.
Disney's Media Networks segment's revenue also rose 9% YoY mainly on the back of its broadcasting business, which increased 21% in the quarter. Its cable network business also rose 5% YoY in the quarter.
The company's top line growth was partially offset by the performance of its Consumer Products & Interactive Media segment, whose revenue fell 8% YoY in the quarter due to a decline in its licensing business.