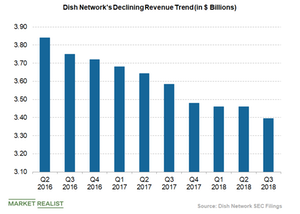 Understanding Dish Network's Declining Revenue Trend
Dish's revenue trend
Dish Network's (DISH) revenues have been falling YoY (year-over-year) for the past eight straight quarters. During the third quarter, its revenue reached $3.395 billion, down 5.2% YoY from the third quarter of 2017 and down 1.9% from its second-quarter revenue of $3.46 billion.
The company's revenue slightly lagged Wall Street's expectation of $3.397 billion in the third quarter.
Article continues below advertisement
Reasons for the revenue fall
The primary reasons for Dish Network's falling revenue were customer losses and a decline in its pay-TV ARPU (average revenue per user). Its pay-TV ARPU was down due to a higher mix of Sling subscribers in the pay-TV customer base and lower revenue related to pay-per-view boxing events.
The company is also losing its DISH TV customers, which is leading to an overall decline in its number of pay-TV subscribers. It's also witnessing a continuous fall in subscriber-related revenue. In the third quarter, its subscriber-related revenue, which makes up 98.5% of its revenue, fell 5.6% YoY to $3.35 billion.
Declining subscriber base
In the quarter, Dish Network posted a net loss of 367,000 DISH TV customers. Dish's satellite customer loss was wider than analysts' expectation of a loss of 232,000 customers. The company added only 26,000 Sling TV subscribers during the quarter, down from the 41,000 customers it added in the second quarter and from analysts' estimate of 71,000 customer additions.
Overall, the company's number of net pay-TV subscribers fell 341,000 in the third quarter, ending up at 12.656 million compared to 13.203 million in the previous year's quarter. At the end of the third quarter, DISH TV's subscribers totaled 10.286 million, while Sling TV's subscribers stood at 2.370 million.
Other traditional pay-TV companies Comcast (CMCSA) and Charter Communications (CHTR) have also been losing video customers for the past several quarters due to cord cutting and competition from over-the-top players in the industry. While Charter lost 66,000 residential video customers in the third quarter, Comcast lost 95,000 residential video customers in the period. AT&T (T), the second-largest US wireless service provider, lost 359,000 satellite TV customers and added 13,000 U-verse TV customers in the quarter.
Amid declining pay-TV numbers, the company, through its Internet streaming service provider, Sling TV, is trying to get more customers on board. However, Sling TV's growth has also slowed since 2017.