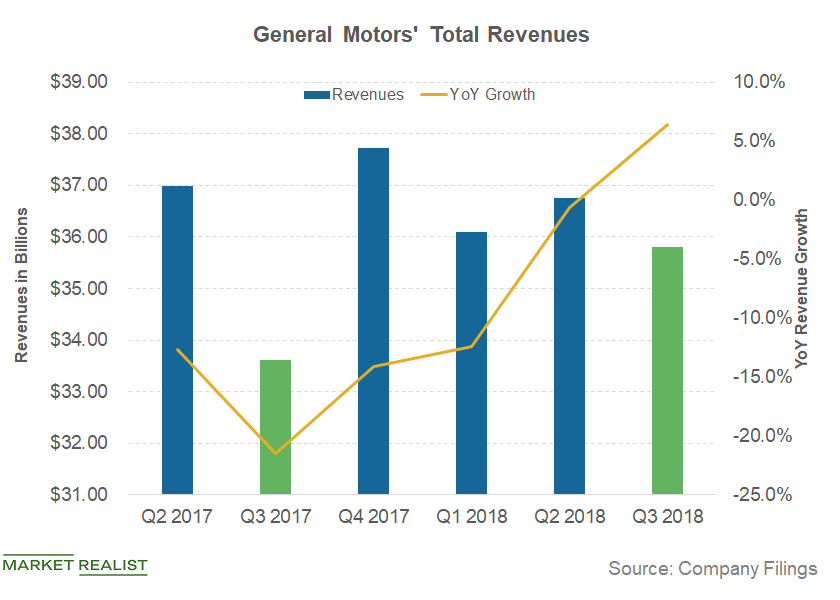 Here's How GM Managed to End Its Negative Revenue Trend in Q3
General Motors' revenue in Q3 2018
In the third quarter, General Motors' (GM) revenue stood at $35.8 billion, an increase of about 6.4% from $33.6 billion in revenue in the third quarter of 2017. It was the first quarter that the company's revenue increased on a YoY (year-over-year) basis after declining in the previous five consecutive quarters. Before we find out what drove GM's Q3 2018 revenue up, let's take a quick look at its global vehicle sales.
Article continues below advertisement
Global sales in Q3 fell
In the third quarter, GM sold about 2.00 million vehicle units globally, 14.7% lower YoY. The company's North America sales fell significantly by 9.8% YoY. GM makes most of its revenue from the North America market. Similarly, other automakers (XLY) such as Ford (F), Fiat Chrysler (FCAU), and Toyota (TM) also generate a significant portion of their revenue from the North American market. In 2017, Ford, Tesla, and GM garnered about 60.0%, 53.0%, and 76.0% of their total revenues, respectively, from the US market. FCAU generated ~62.0% of its revenues from the North America region in 2017.
Stronger results from North America
In the third quarter, North America accounted for about 86% of GM's total automotive revenue as compared to 81% in the third quarter of 2017. The company's third-quarter revenue from North America stood at $27.65 billion, a rise of about 11.4% YoY.
The demand for trucks and utility vehicles continued to be strong during the quarter, which was the key reason for the positive turnaround in General Motors' revenue trend in the third quarter. Trucks and utility vehicles yield higher profits for automakers, and they are sold at a higher price as compared to small passenger cars. In addition, positive vehicle pricing and solid revenue from its financial services arm, GM Financial, gave a boost to its total revenue in the third quarter.
Read on to the next part to learn how GM sales were in its other key markets in the third quarter.