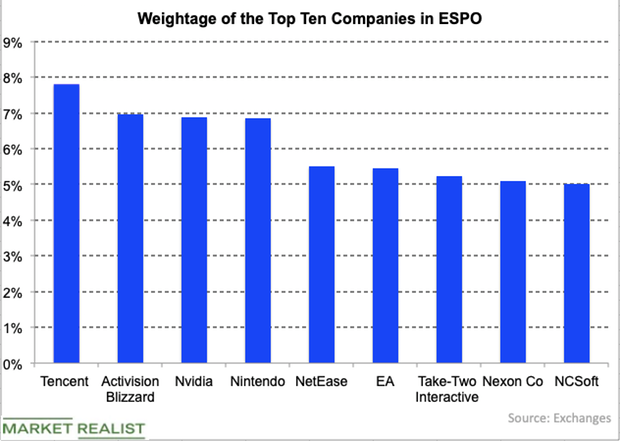 Why Some Exposure to VanEck's Gaming ETF Is Prudent
VanEck
LOPEZ: The video game industry over the years has had its ups and downs, what are the risks now that face companies in the eSports industry? Is there a risk of oversaturation in different games?
LEE: I think that the case we just talked about with PUBG and Fortnite, it's such an evolving and dynamic field that no game or company has a huge capture of any specific market. There's so many different people, so many different people like so many different games. Some people might like playing an RPG [rôle playing game] game by themselves in their house. Some people are playing your first person shooter. Other people might like playing football against each other. There's so many different kinds of game for any kind of gamer.
LOPEZ: It seems like this move to eSports and this franchise model is almost like a move to the mainstream where, maybe, that would help sustain an ongoing long-term business.
Article continues below advertisement
Article continues below advertisement
LEE: Definitely. When you look at the articles that were coming out in 2015 and 2016, when these franchise ideas were starting to grow and being announced, there was a lot of skepticism from people in the media and even from some gamers. But I think the fact that stadiums are selling out worldwide… We've seen a lot of investment in these eSports arenas from local municipalities and Arlington, Texas has invested in renovating a convention center to be a dedicated eSports arena. There are eSports arenas in Sydney, Australia, Las Vegas, and China. So this is a global worldwide phenomenon getting a lot of investment from a lot of different areas. It's not just a tech-specific play. Yes, it's technology, but it speaks to a broad cultural shift.
LOPEZ: Thank you, J.P. Thank you for that insight.
LEE: It's great to be here.
LOPEZ: So, there's a lot going on in the video game space. If you're interested in getting access to this in an investment form, check out VanEck Vectors Video Gaming and eSports ETF, ticker symbol ESPO, and, for more information, visit vaneck.com.
Market Realist
The gaming and esports market is likely to continue to surge, as we discussed earlier. eSports events are already filling up stadiums around the world.
The VanEck Vectors Video Gaming and eSports ETF (ESPO) provides exposure to gaming and related industries. ESPO holds 7.8% in gaming giant Tencent (TCEHY) and 7% in Activision Blizzard (ATVI). It also provides exposure to chip makers, who focus on making gaming processors.
ESPO holds 6.9% and 3.8% in NVIDIA (NVDA) and Advanced Micro Devices (AMD), respectively. In total, the semiconductor industry makes up nearly 14% of ESPO's holdings. The ETF also provides exposure to online gaming companies, gaming hardware companies, and game development companies.