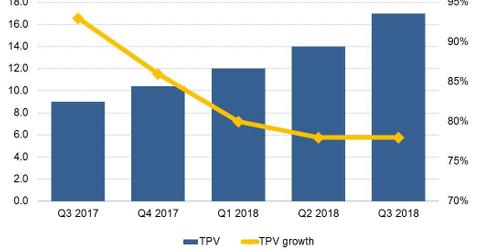 Why PayPal Is Hiking Its Venmo Bank Transfer Fees
By Neha Gupta

Updated
1.0% fee to apply to start in November
Although PayPal's (PYPL) Venmo service is generally free to use for consumers, several features are available for a fee. One such feature is Instant Transfer, which lets people transfer Venmo funds to their bank accounts within minutes.
When PayPal introduced Instant Transfer, it charged customers a flat fee of $0.25 for an express bank transfer from the Venmo account. However, the company is raising the fee. On November 6, PayPal plans to charge 1.0% for its Instant Transfer service. The fee is calculated on the amount being transferred. Square (SQ) also charges a 1.0% fee for its express bank transfer service.
Article continues below advertisement
Higher fees reflect Venmo's value
Instant Transfer takes about 30 minutes to move money from a consumer's Venmo account to a bank account. However, consumers can choose to wait up to three days for a standard bank transfer, which is a fee-free transaction.
PayPal hiked its Instant Transfer fee to reflect the value that it believes Venmo offers its users. When it raised its Prime membership fee from $99 per year to $119 per year, Amazon (AMZN) tied that move to an increase in the value that its Prime membership offers. 
Venmo transaction volume soared 78%
PayPal (PYPL) partnered with Visa (V) and Mastercard (MA) to implement Venmo's instant bank transfers. Mastercard also partnered with PayPal on a Venmo debit card program. Square is working with Visa to issue debit cards tied to its Cash App. Venmo processed $17.0 billion in transactions in the third quarter, up 78.0% year-over-year.