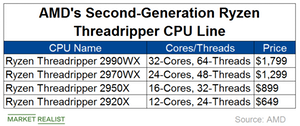 What Is AMD's Strategy to Increase CPU Market Share?
AMD's strategy to increase CPU market share
In the previous part of the series, we saw that there is a vast difference between Advanced Micro Devices' (AMD) and Intel's (INTC) market share in terms of units sold and revenue. The major reason for this difference is the ASP (average selling price) of each company. AMD is looking to increase its overall CPU (central processing units) market share by increasing its ASP as well as unit sales.
Article continues below advertisement
AMD to launch complete Ryzen Threadripper family
AMD launched two of its very high-end second-generation Ryzen Threadripper CPUs in August 2018. The two CPUs, the 32-core 2990WX and 16-core 2950X, are built on Global Foundries' 12-nm (nanometer) node and are priced at $1,799 and $899, respectively.
On October 29, AMD plans to launch the remaining two second-generation Ryzen Threadripper CPUs, the 2970WX and the 2920X, priced at $1,299 and $649, respectively. AMD didn't design the Threadripper series with gamers in mind, but the series delivers a strong gaming performance.
An AMD blog reported that the company plans to launch new software update DLM (dynamic local mode) for Ryzen Threadripper WX chips. The DLM mode helps the WX chips boost their performance in gaming and other applications that use multiple cores.
It is also looking to increase the unit sales of its higher-end CPUs by increasing its Threadripper offerings and boosting gaming performance as game enthusiasts are key customers in the high-end segment. Even Intel is targeting the gaming segment with its new ninth-generation Core processors it made available on October 19. Intel is looking to compete with AMD with its new processor, and the latter is ready for the competition. We'll look into this next.
Check out all the data we have added to our quote pages. Now you can get a valuation snapshot, earnings and revenue estimates, and historical data as well as dividend info. Take a look!