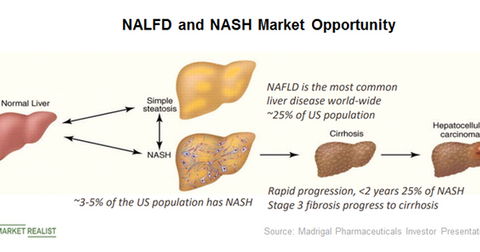 NASH Opportunity Driving Growth for Viking Therapeutics in 2018
By Margaret Patrick

Oct. 19 2018, Published 12:25 p.m. ET
Positive news and target price revisions
On September 18, Viking Therapeutics (VKTX) announced its positive top-line results from its Phase 2 study evaluating its investigational therapy, VK2809. This study evaluated reduced LDL-C levels and reduced fat content in patients who have nonalcoholic fatty liver disease (or NAFLD) and high LDL-C levels.
After this announcement, H.C. Wainwright issued a "buy" recommendation for the company and increased the 12-month target price from $15.00 to $28.00. Maxim Group also issued a "buy" recommendation and increased its target price for Viking Therapeutics from $14.00 to $28.00. Raymond James issued an "outperform" recommendation and increased its 12-month target price for Viking Therapeutics from $15.00 to $43.00 on September 18.
The above diagram highlights the prevalence of NALFD and NASH in the US population as well as the severity of these conditions. Left untreated, a significant number of patients progress to fibrosis and liver cirrhosis.
Article continues below advertisement
On September 20, Viking Therapeutics announced the pricing of its public offering of 9.5 million shares at $18.50 per share, which is expected to result in gross proceeds of $175.8 million. This announcement, which followed the release of its successful topline outcomes for VK2809 in its Phase 2 study, helped Viking Therapeutics raise funds to support its R&D programs.
VK2809 in other indications
On October 8, Viking Therapeutics announced positive data from its in vivo study evaluating VK2809 in glycogen storage disease type la (or GDS la) indication. This data was presented at the 88th Annual Meeting of the American Thyroid Association. According to the investigators for this study, these outcomes highlight VK2809's potential in NALFD and NASH indications, as the disease characteristics are partly similar to those seen in the GSD la condition.
In the next article, we'll discuss analysts' ratings for Viking Therapeutics' key competitors in the NASH arena.