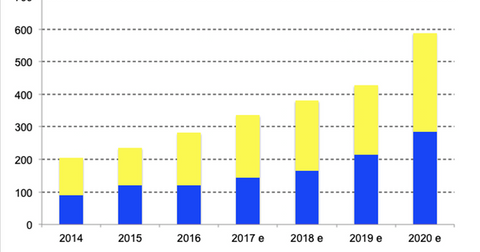 How You Can Get Exposure to the Burgeoning Gaming Sector
By VanEck

Updated
VanEck
ED LOPEZ: Hi, I'm Ed Lopez, Head of ETF Product at VanEck. We're excited to be bringing to market the pure-play video gaming and eSports ETF, VanEck Vectors® Video Gaming and eSports ETF, ticker symbol ESPO. I'm here today with J.P. Lee. He's an Associate Product Manager at VanEck.
J.P., you were instrumental in helping us bring this ETF to market. So I wanted to bring you on to be the subject matter expert in the video game space for us. The market today is undergoing transformative growth and actually creating new opportunities for some of these video game makers and the industry as a whole: better technology, multiplayer online playing. I think the industry is even poised to disrupt the media and entertainment industry. One of the major themes, or driving factors in the themes, is this idea of eSports. Can you tell us a little bit about what eSports is?
Article continues below advertisement
J.P. LEE: Sure: eSports are, in a nutshell, competitive video gaming where teams or individuals come together and play online matches against each other. A lot of times these matches are held in an arena, like a typical football game or basketball game. You've seen these arenas filling up with 22,000 people and they're all sitting around watching the Jumbotron.
Market Realist
People playing multiplayer video games is nothing new. Multiplayer games have been around for decades.
PCs started getting affordable two decades ago as Internet speeds increased. Gamers not only played on PCs but also started playing against each other online as it became easier to connect with other gamers worldwide.
This trend started gaining traction, and some gamers became so skilled that they started gaining fans—millions of them. The change caused computer gaming to become organized, professional, and competitive.
As the graph above shows, the global esports audience has surged over the years, and it's expected to continue to rise over the next few years. You can gain exposure to gaming and related companies through the VanEck Vectors Video Gaming and eSports ETF (ESPO).