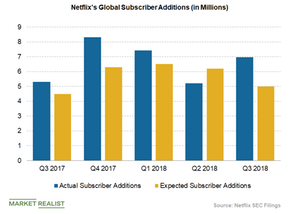 How Credit Agencies Are Rating NFLX after Its Bond Offering
By Sophia Nicholson

Updated
Netflix's bond offering
Netflix (NFLX) has raised debt of ~$2 billion by offering bonds in the debt market. The streaming giant's latest bond offering of $2 billion marks the second time it has been involved in a bond offering this year.
Netflix sold $1.6 billion worth of debt in April. It's expected to utilize the debt proceeds to acquire and fund new content. The company plans to burn ~$3 billion in cash this year to support new shows and movies.
Article continues below advertisement
Credit rating agencies on Netflix
S&P Global Ratings has given Netflix's $2 billion bond offering a BB- rating. The rating reflects Netflix's expanded EBITDA margin over the past year driven by an increase in prices and robust growth in its subscriber numbers. S&P Global upgraded Netflix's rating to a BB- from a B+ on October 18.
Moody's Investors Service raised its credit rating on Netflix in April, when the company last issued bonds. According to reports, Moody's is positive on Netflix despite its debt load because Moody's expects the company's debt levels to fall relative to its EBITDA. The rating agency believes that Netflix will continue to shift from licensing shows and movies to producing its own over the next two years.
The optimism surrounding Netflix is backed by impressive subscriber growth, price rises, and strong revenues that have given it the scope to continue spending billions to fund new shows and movies.
Netflix's subscriber growth
Netflix delivered upbeat subscriber numbers in the third quarter. Its streaming subscriber additions of ~7 million were better than the company's expectations of ~5 million subscriber additions and analysts' expectations of 5.2 million subscriber additions for the quarter. The company ended the third quarter with a total global subscriber base of nearly 137 million, and it's expected it to reach 146.5 million subscribers in the fourth quarter.
Netflix faces intense competition from tech companies such as Amazon Prime, Hulu, and Alphabet's YouTube due to the growing popularity of video-streaming services. Walmart (WMT) and the Walt Disney Company (DIS) are also planning to roll out their video streaming services in the near term. Telecommunications and satellite operators such as AT&T (T) and DISH Network (DISH) are also offering streaming services to offset subscriber losses.