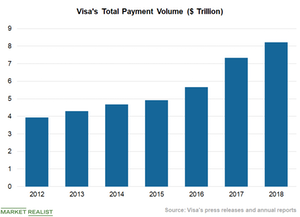 Digitization and Tech Investment Drove Visa's Payment Volume
By Anirudha Bhagat

Updated
Growing global digitization
Visa's (V) fourth-quarter results benefited from the growing global trend of cashless transactions. This trend has been driven by increased mobile and Internet penetration, as well as rapidly growing e-commerce and POS (point-of-sale) transactions. The decreased cost of digital payment acceptance is another factor that has led to its rapid adoption, fueling Visa's growth.
A massive increase in digital transactions along with the company's strategy of investing in technology has paid off well in the form of increased processed transactions and payment volumes. Visa's total payment volumes grew to $8.22 trillion in fiscal 2018 from $3.94 trillion in fiscal 2012, signifying a CAGR (compound annual growth rate) of 13%.
Article continues below advertisement
Going forward, according to Statista's latest report, the total global digital payments transaction value is expected to reach ~$5.41 trillion in 2022 from ~$2.75 trillion in 2017. This estimate represents a five-year CAGR (compound annual growth rate) of 13.5%. The research firm expects the 2018 digital payment transaction value to grow 18.6% year-over-year and reach $3.27 trillion.
The majority of this growth is believed to be driven by increased digital commerce transactions. According to the report, the digital commerce transaction value could reach $4.08 trillion in 2022 from $2.52 trillion in 2017.
Technology investment
Payment modes are shifting rapidly from cash to digital due to continuously evolving digital technology, increasing online transactions, and competitive forces. To keep its leading position in the payment processing (IPAY) space, Visa has invested billions of dollars in its technology transformation initiatives in the last several years.
Visa is increasing its presence in the IoT payments space through its Visa Ready Program. This program is designed to help innovators make devices, software, and solutions compatible so they can initiate or accept Visa payments. To drive its IoT payment solutions, Visa has partnered with IBM (IBM) and Intel (INTC).
With a sustained focus on investing in technological innovations and the rapid adoption of digital payment platforms, payment processing companies Visa, Mastercard (MA), and PayPal (PYPL) are witnessing a tremendous increase in their payment volumes. Visa's total payment volume at the end of fiscal 2018 totaled $8.22 trillion. Mastercard and PayPal ended 2017 with total payment volumes of $5.2 trillion and $451.0 billion, respectively.