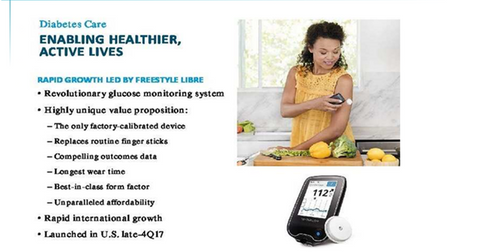 ABT Expands in Europe with Freestyle Libre 2 Approval
By Sarah Collins

Oct. 5 2018, Updated 10:45 a.m. ET
Overview of Freestyle Libre 2
On October 1, Abbott Laboratories (ABT) announced that it had received a CE mark in Europe for its next-generation CGM (continuous glucose monitoring) system, the Freestyle Libre 2. On the day, its stock jumped more than 1% and reported a 52-week high of $74.15.
The device eliminates the need for finger sticks to measure glucose levels and provides self-monitoring capabilities to diabetes patients with an optional real-time alarm system. Bluetooth technology is used to enable the optional alarm feature, which provides customizable alarms for both low glucose and high glucose levels.
Abbott will launch its Freestyle Libre 2 system in Europe on a rolling basis. The original Freestyle Libre system was launched in Europe in 2014. The Freestyle Libre 2 will be offered at the same price as that of Freestyle Libre. The Freestyle Libre launched in the United States in late 2017.
Article continues below advertisement
Importance of alarm
According to Dr. Jens Kröger, a specialist of internal medicine and diabetology at the Center of Diabetology Bergedorf in Hamburg, Germany, "Enabling patients to have optional alarms with the FreeStyle Libre 2 system provides them with even more freedom in managing their condition. For some patients who are unaware of the hypoglycemia episodes they may be experiencing—especially during sleep—having alarms can be important. Or, for the parents of children with diabetes, alarms can provide peace of mind."
Diabetes business
With this launch, Abbott Laboratories is expected to see a boost to its diabetes business's sales in the coming quarters and expand its customer base. The company's diabetes business delivered a solid performance in the second quarter. It also recently received reimbursement approvals for its Freestyle Libre Flash CGM. These developments triggered stock price rises.