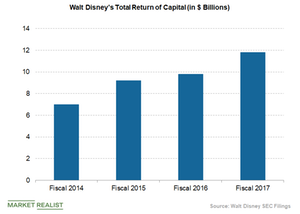 Why Disney Had to Discontinue Its Share Repurchase Program
Disney to cease share repurchase program
In its recently reported fiscal third quarter, which ended on June 30, the Walt Disney Company (DIS) announced that it would not continue its share repurchase program until it completed its proposed acquisition of significant media assets from 21st Century Fox (FOXA).
The media company has agreed to acquire Fox assets for $71.3 billion, whereby it will pay $35.7 billion in cash to Fox shareholders as part of its half-cash, half-stock acquisition deal. The US Department of Justice approved the acquisition agreement in June on the condition that Disney sell Fox's regional sports network assets. Disney is now seeking approval from antitrust regulators in the European Union, which have set a deadline of October 19 for their ruling on the deal.
Article continues below advertisement
Disney aims to improve its cash-to-debt ratio
Disney has rewarded its shareholders in the past. It returned total capital of $11.8 billion to its shareholders via dividends and buybacks in fiscal 2017, higher than the $9.8 billion it returned in fiscal 2016, the $9.2 billion it returned in fiscal 2015, and the $7.0 billion it returned in fiscal 2014. Earlier, Disney's management predicted that it would buy back shares worth $6 billion in fiscal 2018.
Disney expects to resume its share repurchase plan after it improves its cash-to-debt ratio with a single A credit rating. At the end of the quarter that ended on June 30, Disney's cash-to-debt ratio, a measure of its financial strength, was 0.18 compared to the industry average of 0.82. When a company's cash-to-debt ratio is lower than 1, it means that the company doesn't have sufficient cash in hand to pay off its debt.
The cash-to-debt ratio of Disney's peer Netflix (NFLX) was 0.47 on June 30. The ratio was 0.03 for CBS Corporation (CBS) and 1.04 for News Corporation (NWS) on the same day.