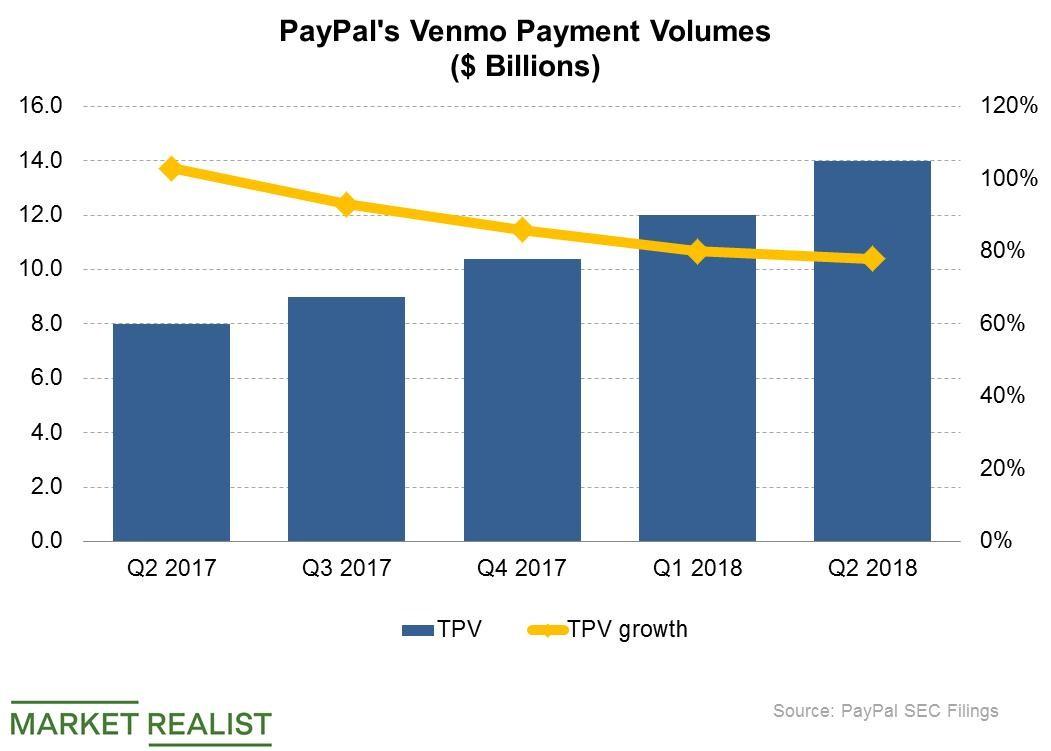 Where Is PayPal Taking Venmo?
Venmo facilitates $14 billion in transactions
Although competition is on the rise in the peer-to-peer payments market, PayPal (PYPL) sees a bright future for its Venmo service. In a recent interview with Yahoo Finance, PayPal CEO Dan Schulman discussed the future of Venmo. Schulman noted that PayPal's aim is to build it into an everyday app for people moving and managing their money. Venmo's transaction volume soared 78.0% YoY to $14.0 billion in the second quarter.
Article continues below advertisement
In addition to supporting money transfers between friends, Venmo can also be used to pay merchants who already accept the flagship PayPal service. A few months ago, PayPal launched a Venmo credit card in partnership with Mastercard (MA), allowing Venmo subscribers to use their balances to shop offline or withdraw their funds from an ATM.
PayPal and Square enticing consumers with debit cards
Square (SQ) issues a debit card linked to its Square Cash app, which functions like Venmo. Square partnered with Visa (V) for the Square Cash app card. PayPal has a partnership with both Mastercard and Visa, which is seen as part of its efforts to expand in the in-store payments market.
To drive the uptake of Venmo, PayPal wants to monetize it in a way that doesn't cost consumers, Schulman said in the interview.
Race for peer-to-peer payments market share
In the peer-to-peer payments market, PayPal is in a race with Apple, Google (GOOGL), and Alibaba (BABA) in addition to Square. In August, Google announced the expansion of its Tez/Google Pay service, partnering with banks to extend small loans to Tez users in India.
Alibaba operates the largest mobile payment service in China. Alibaba backs India's leading mobile payments provider, Paytm, which has said it handles more than $4.0 billion in payments transactions every month. Paytm recently attracted a reported $356.0 million investment from Berkshire Hathaway (BRK) and is underway with the launch of a PayPal rival service in Japan in partnership with SoftBank (SFTBF).