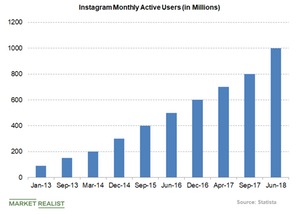 What Made Instagram More Popular than Facebook?
Instagram's growing user base
Facebook (FB) acquired Instagram in 2012, and since then, the company has been keen on expanding its user base. Instagram's user base has grown to 1 billion monthly users as of the end of June from 600 million in late 2016.
Facebook has also launched Instagram's trimmed version, Instagram Lite, for Android users, as the company looks to target more users in fast-growing emerging markets, where people have limited data plans or their data connections are weak or have lower bandwidth.
Article continues below advertisement
Facebook is losing popularity to Instagram and Snapchat
Instagram has attracted billions of users, and its platform is also trusted more than Facebook, as it's hard to share links or reshare content on the platform, which curbs the spread of misinformation or any false news. In contrast, Facebook has been facing increasing scrutiny surrounding its data policies and the menace of fake news. Facebook also witnessed sluggish user growth in its latest earnings results.
Instagram is popular among the younger generation and teens. According to Hargreaves Lansdown, Instagram's number of monthly users will likely reach 1.4 billion by 2020. Facebook, on the other hand, currently has more than 2.2 billion monthly users. However, Facebook is maturing and losing popularity among teenagers—though older groups still use Facebook.
Most notably, kids who are 12–17 have been switching to Google's (GOOGL) YouTube and Snapchat (SNAP). According to a recent report by eMarketer, ~68.0% of young Internet users are expected to use Snapchat by the end of 2018—more than the number of kids that use Facebook and Instagram at 47.2% and 43.6%, respectively.
Facebook's control over Instagram
Facebook is trying to gain from Instagram's growing user base and is reportedly looking to tightly control Instagram's operations to reach its revenue growth targets.
Lately, Facebook has been trying to remove the differences between the two and has been pushing the platform toward data sharing, product integration, and other strategies, which reportedly created a rift between the founders of Instagram and Facebook, potentially leading Instagram's founders to quit.