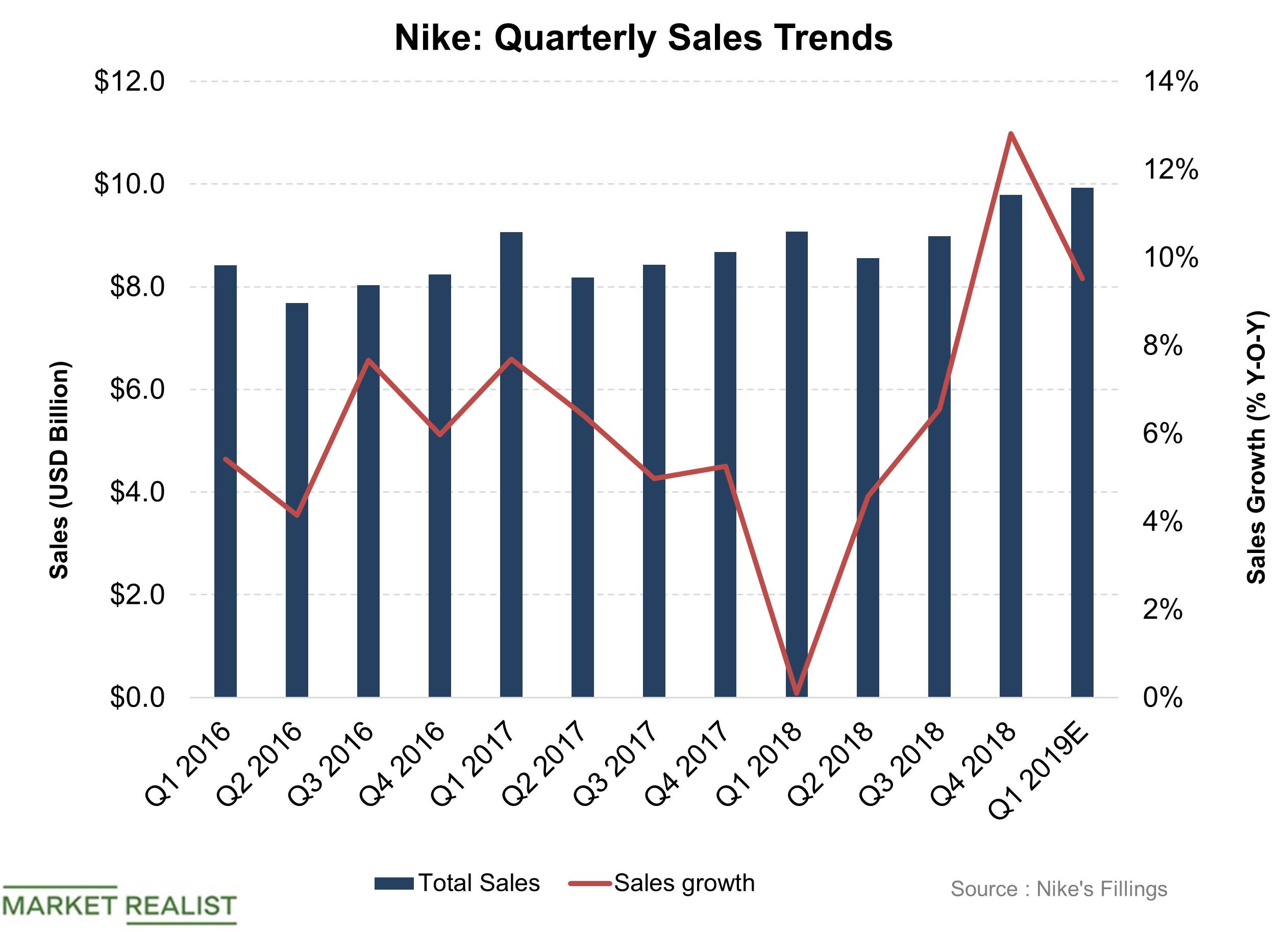 What Are Nike's Key Growth Drivers in Fiscal 2019?
Nike's recent performance
Nike's (NKE) sales growth accelerated in every quarter of fiscal 2018. Its YoY (year-over-year) top-line growth improved from 0.1% in the first quarter to 4.6% in the second quarter, 6.5% in the third quarter, and an impressive 12.8% in the fourth quarter. While the company marginally missed analysts' expectations in the first quarter, it outperformed in the three following quarters.
Nike's total sales for fiscal 2018 increased 6% YoY to $34.5 billion. Its brand wholesale revenue increased 2%, and its DTC (direct-to-consumer) sales grew 12%. Growth in its DTC business was supported by a 25% increase in digital sales and a 4% growth in comparable store sales.
Article continues below advertisement
Looking forward
Nike is optimistic about fiscal 2019 and expects total sales to increase at a high-single-digit rate in the year. Growth is likely to be supported by strong digital sales, new innovative products, and a growing international business.
Nike is actively building up its e-commerce platform and selling through other digital channels such as Amazon's marketplace. Digital sales improved 41% YoY in fiscal 2018 fourth quarter.
Nike's focus on cleaning up excess inventory and its strategy of selling directly to consumers is already showing results. It has started snatching market share from competitors in North America, which has been a sluggish spot for the company recently. As part of its strategy to revive sales, it's investing heavily in women's footwear and apparel.
First-quarter expectations
For fiscal 2019 first quarter, which Nike will report on September 25, management is looking for high-single-digit growth in reported revenues. Wall Street is in line and has predicted a 9.5% YoY increase in sales to $9.93 billion.
Next, let's look at Nike's profitability.