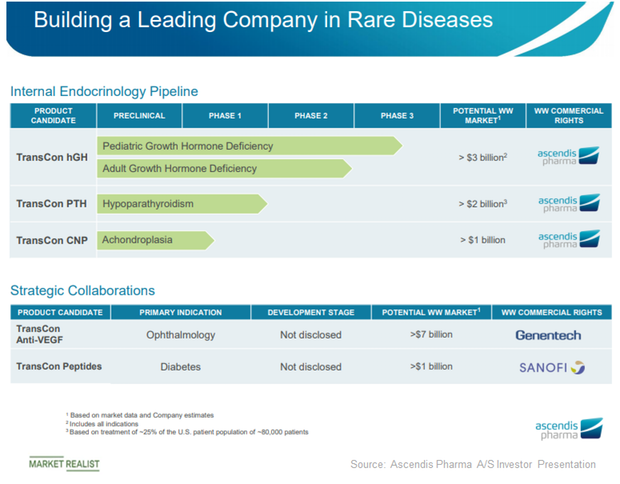 TransCon Tech Is a Major Growth Driver for Ascendis Pharma A/S
By Margaret Patrick

Sep. 25 2018, Updated 10:47 a.m. ET
Ascendis Pharma's target price
Ascendis Pharma A/S (ASND) is a biopharmaceutical company focused on becoming a leading player in the endocrinology rare disease space by leveraging its TransCon technology to develop multiple prodrug therapies. The company has reported YTD (year-to-date) returns of 66% in 2018.
Of the seven analysts covering Ascendis Pharma A/S in September, five have recommended "strong buys" on the company, one has recommended a "buy," and one has recommended a "hold."
Article continues below advertisement
The 12-month consensus analyst recommendation for Ascendis Pharma A/S on September 23 is a "strong buy." The 12-month consensus target price for the company is $79, which is 18.80% higher than its last closing price on September 21. Ascendis Pharma A/S closed at $66.50 on September 21, 139.73% higher than its 52-week low of $27.74 and 13.63% lower than its 52-week high of $76.99. As of June 30, the company had cash and cash equivalents worth 352.6 million euros on its balance sheet.
The above diagram highlights the growth opportunity for Ascendis Pharma's endocrinology pipeline across indications and strategic collaborations, such as with Roche Holdings' (RHHBY) Genentech in the ophthalmology segment and with Sanofi (SNY) in the diabetes segment.
Market opportunity
According to Ascendis Pharma A/S and market estimates, each of the company's research programs, such as TransCon Growth Hormone, TransCon PTH, and TransCon CNP, are individual market opportunities in excess of $1.0 billion.
According to Ascendis Pharma's research, annual worldwide recombinant human growth hormone (or rhGH) sales are close to $3.5 billion. The company had estimated the compound average growth rate for this market to be 2.4% from 2010 to 2014. The company estimates that 90% of the opportunity in this market is attributed to the pediatric population.
As per the company's estimates, the growth hormone deficiency (or GHD) indication accounts for 51% of its sales in the growth hormone treatment market, while idiopathic short stature, Turner syndrome, Prader-Willi syndrome, and small for gestational age account for 19%, 18%, 7%, and 3%, respectively, of its total sales.
In the next article, we'll discuss growth trends for Spectrum Pharmaceuticals in greater detail.