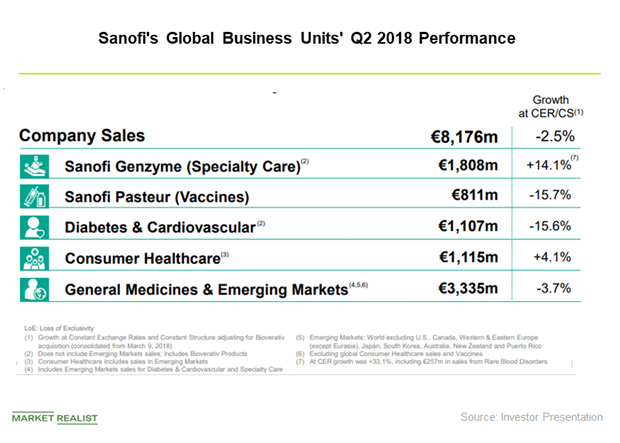 Sanofi's Organizational Restructuring: Investor Insights
Sanofi is changing its organizational structure
On September 13, Sanofi announced that it's changing the organizational structure of two of its GBUs (global business units) to enable focused operations across emerging markets and mature markets. Currently, it operates through five GBUs: Sanofi Genzyme, Sanofi Pasteur, DCV (Diabetes and Cardiovascular), Consumer Healthcare, and GEM (General Medicines & Emerging Markets).
With the reorganization, Sanofi will create a Primary Care GBU focused on mature markets, which will include its existing DCV GBU and Established Products portfolio, which is currently part of its GEM GBU. The second new GBU will be China & Emerging Markets, which will include the rest of the GEM GBU and will be focused on emerging markets. The new GBUs are expected to be launched by Sanofi in early 2019.
Article continues below advertisement
Leadership changes
With the introduction of the new organizational structure, Sanofi also made some leadership changes. The current DCV GBU head Stefan Oelrich has resigned and will join Bayer (BAYZF) as head of its Pharmaceuticals division starting November 1. Oelrich will replace Dieter Weinand at Bayer, who will be joining Sanofi. Weinand will be Sanofi's executive vice president for the new Primary Care GBU. On November 1, Weinand will become an executive committee member and report to Sanofi's CEO Olivier Brandicourt.
The China & Emerging Markets GBU will be led by the current head of GEM GBU, Olivier Charmeil.