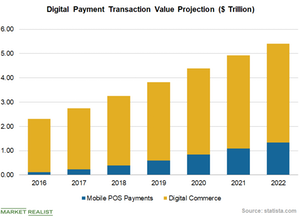 Rising Digital Payments to Support Mastercard's Long-Term Growth
Digital payment market
In the last few years, global cashless transaction volumes have grown drastically due to increased Internet and mobile penetration, robust e-commerce growth, and POS (point of sale) transactions. The rapid adoption of digital payments is expected to increase the usage of products offered by payment processing companies like Mastercard (MA). Additionally, the decreased cost of digital payment acceptance could fuel the company's growth.
Article continues below advertisement
Market research firm Statista projects that the total value of global digital payment transactions could increase to ~$5.41 trillion in 2022 from ~$2.75 trillion in 2017. This represents a five-year CAGR (compound annual growth rate) of 13.5%. Statista noted that the digital payment transaction value is expected to reach $3.27 trillion in 2018, marking YoY (year-over-year) growth of 18.6%.
Statista noted that strong growth in digital commerce transactions could drive the majority of this uptrend. The value of digital commerce transactions could reach $4.08 trillion in 2022 from $2.52 trillion in 2017.
The value of mobile POS payments could also witness tremendous growth, and it's expected to grow to $1.33 trillion in 2022 from just $230.8 million in 2017.
Enhanced capabilities could lead to opportunities
Mastercard and Visa (V) are investing in technological innovations to garner the significant opportunity from the rapid worldwide adoption of digital payment platforms. Mastercard is working on enabling IoT (Internet of Things) devices to be used as payment devices. The company launched its proprietary blockchain-based payment processing service in October 2017.
Visa has partnered with IBM (IBM) and Intel (INTC) to drive its IoT payment solutions. Visa also entered the blockchain-based B2B (business-to-business) payment services space through the B2B Connect platform in November 2017.
Mastercard (MA) comprises ~6.5% of the Invesco DWA Financial Momentum ETF (PFI).