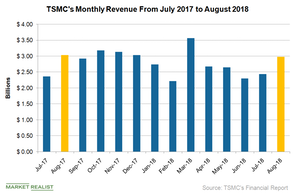 Pros and Cons of Apple's and TSMC's Interdependence
Apple and TSMC
So far in this series, we've looked at Apple's (AAPL) component suppliers. Apple is manufacturing its A12 processors that would power its 2018 iPhone models on TSMC's (TSM) 7-nm (nanometer) node. TSMC is Apple's sole foundry partner and has exposure to Apple in areas other than the A12 processors. For instance, it manufactures modems Intel (INTC) designed for use in iPhones.
2018 started strong for TSMC, as it witnessed strong demand for NVIDIA's GPUs (graphics processing units) and Bitmain's and Canaan Creative's ASICs (application-specific integrated circuits) due to the crypto boom. As the crypto boom ended, the iPhone seasonal sales picked up, offsetting crypto declines.
Article continues below advertisement
Apple exposed to TSMC's troubles 
TSMC started volume production on its new 7-nm (nanometer) node in H2 2018 but it suffered from a computer virus outbreak at the start of August 2018, which impacted its production for four days. The foundry stated that the virus outbreak could lead to delays in product shipments and reduce its fiscal Q3 2018 revenue by $255 million. However, the company could recover this loss in fiscal Q4.
TSMC is the sole supplier of Apple's A12 processors, and the shipments of these processors will likely be delayed as the virus outbreak impacted the foundry's production. However, it is difficult to quantify the impact.
Apple has delayed the launch of its cheaper variant iPhone XR by more than a month. Suppliers expect iPhone XR to account for 50% of the total new iPhone models produced in Q4 2018. Some analysts believe that the delay is due to software issues in the Liquid Retina LCD (liquid crystal display). TSMC's outbreak could also be one of the reasons for the delay.
Next, we'll see how iPhones could impact TSMC's earnings in H2 2018.
Check out all the data we have added to our quote pages. Now you can get a valuation snapshot, earnings and revenue estimates, and historical data as well as dividend info. Take a look!