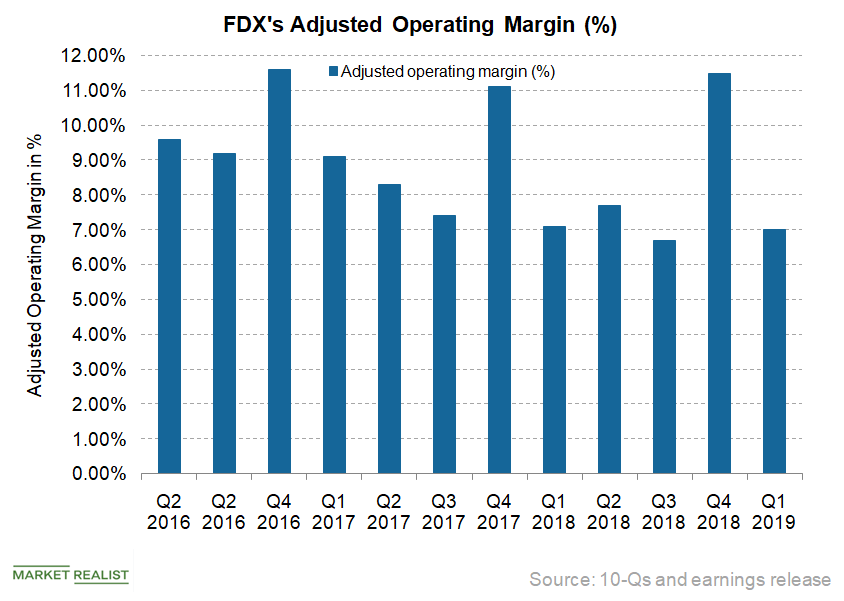 Did FedEx Deliver on Operating Margins in the First Quarter?
FedEx's first-quarter operating margins
Here, we'll look into FedEx's (FDX) performance on the operating margin front. In the first quarter, FedEx reported a $100.0 million rise in adjusted operating income to $1.19 billion from $1.09 billion in the same period of 2018. Higher revenue due to the recovery from the NotPetya cyberattack offset increased transportation costs across all segments.
FedEx's adjusted operating margin contracted by ten basis points to 7% in Q1 2019 from 7.1% in the first quarter of 2018. This was due to higher manpower-related expenses in the quarter to support revenue growth. The company's first-quarter revenue jumped 11.8% YoY (year-over-year), whereas its operating expenses grew 11.6% YoY.
Article continues below advertisement
Segment-wise operating margin
The FedEx Express segment recorded a ~15% YoY rise in the first quarter's adjusted operating income to $469.0 million from $408.0 million in Q1 2018. The segment's adjusted operating margin jumped 20 basis points to 5.1% from 4.9% a year ago. Operating margin expansion was due to higher revenue and a favorable net impact of fuel and currency exchange.
In the first quarter, FedEx Ground witnessed 10.1% YoY growth in operating profit to $667.0 million from $606.0 million in Q1 2018. The vertical's operating margin reported a 0.40% contraction to 13.9% from 14.3%. Increased variable compensation accruals along with wage increases for certain hourly employees negatively impacted the Ground segment's operating margin in the quarter.
The FedEx Freight vertical's operating income rose 6.7% YoY to $176.0 million in the first quarter from $165.0 million in Q1 2018. The segment's operating margin contracted by 90 basis points to 9% in the quarter from 9% in the corresponding quarter of fiscal 2018. Increased salaries and employee benefit expenses and higher purchase transportation expenses led to the contraction in operating margin.
Article continues below advertisement
Management outlook
For fiscal 2019, FedEx is targeting an adjusted operating margin of 8.5%. The company operates on a portfolio basis. Thus, FedEx refrained from issuing segmental margin guidance. In the long term, FedEx aims for a 10% plus operating margin for the corporation as a whole. The parcel delivery giant reaffirmed that operating income improvement measures in FedEx Express should boost the segment's operating income by $1.2 billion to $1.5 billion in fiscal 2020.
The FedEx Ground segment's operating margins are expected to benefit from facilities modernization and optimization. The positive industrial business environment along with pricing initiatives should drive the Freight vertical's operating margin.
ETF discussion
Investors interested in exposure to industrial companies can consider investing in the iShares U.S. Industrials ETF (IYJ). The ETF has a 1.63% weight in FedEx. Other major transportation and logistics companies included in IYJ's holdings are Union Pacific (UNP) with a weigh of 3.44%, United Parcel Service (UPS) with a weight of 2.23%, and CSX (CSX) with a weight of 1.78%.
In the next article, we'll go through FedEx's capital expenditure.