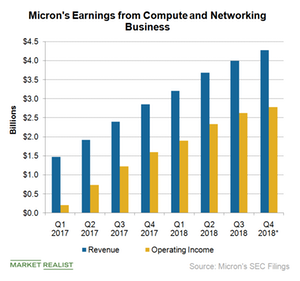 A Look at Micron's Compute and Networking Business
Micron is at the center of the data economy
Micron Technology (MU) has braced itself to withstand the challenge of falling memory prices by improving its cost competitiveness and increasing its mix of high-value solutions from the supply side. Now let's look at the demand side of memory.
At its 2018 Investor Day, Micron's CEO, Sanjay Mehrotra, stated that in the data economy, data travel from the data center to AI edge devices and back to the data center, creating a virtuous growth cycle. There is a need for memory and storage at every step. Micron is looking to tap this opportunity from its four end markets: compute and networking, mobile, embedded, and data center.
Article continues below advertisement
Micron's compute and networking business
Micron's CNBU (compute and networking business unit) supplies DRAM (dynamic random-access memory) products for PCs, servers, GPUs (graphics processing unit), and networking. NVIDIA (NVDA) and Intel (INTC) are its key customers.
CNBU earnings
As we can see in the graph above, Micron's CNBU business's revenue and profits have been growing continuously over the last eight quarters driven by higher DRAM ASPs (average selling price) and unit sales. Its earnings have grown in the double digits as demand for NVIDIA's gaming GPU, which uses Micron's GDDR5X (graphics double data rate) memory, has increased significantly due to high demand from crypto miners and gamers.
The segment has also seen increasing demand from cloud companies, which are deploying AI servers, which require six times more DRAM than standard servers. PC demand has stabilized as the growing adoption of high-resolution gaming, virtual reality and augmented reality, and other forms of visual computing have encouraged users to upgrade their PCs.
We expect this trend to continue in the fiscal fourth quarter, with CNBU's revenue expected to rise 7% sequentially to $4.2 billion and its operating margin to remain unchanged at over 65%. CNBU's earnings could fall in fiscal 2019 as it starts to feel the impact of the falling DRAM ASP.
Next, we'll explore Micron's mobile business.