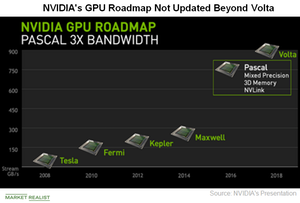 Would NVIDIA Bring Turing to GeForce Gaming GPUs?
NVIDIA's platform model 
NVIDIA (NVDA) surprised analysts by announcing its first Turing-based GPUs (graphics processing unit) on the Quadro platform. Analysts were expecting the Turing GPU to be part of the GeForce gaming platform, which contributes over 50% toward its revenues.
Historically, NVIDIA adopted a platform model wherein it leveraged one GPU architecture across different platforms like GeForce for gaming, Quadro for workstations, and Tesla for the data center. However, the approach seems to be changing as it did not introduce Volta architecture on GeForce platform. If NVIDIA follows the historical pattern, it might leverage Turing architecture on GeForce platforms.
Article continues below advertisement
Rumors around NVIDIA's next-generation GeForce GPU
Quadro GPUs are generally a design tweak of GeForce GPUs. This time, NVIDIA may go the other way and disable some features of Quadro to make it suitable for the GeForce platform. Advanced Micro Devices (AMD) and Intel (INTC) also use similar segmentation strategy to make their processors available across the high, mid, and low price ranges.
According to a PCGamer article, NVIDIA might disable Tensor Cores but retain RT cores in its GeForce variant of Turing. It might also retain VirtualLink port to make its GeForce GPUs ready for next-generation virtual reality headsets.
As NVIDIA used the name RTX to enhance the ray-tracing feature of its Turing-based Quadro GPUs, it might use RTX even for Turing-based GeForce GPUs. GeForce RTX 1180, 1170, and 1160 might be trimmed versions of Quadro RTX 8000, 6000, and 5000.
However, the PCGamer article noted that a vast difference in the core count of Quadro RTX 6000. It added that the 5000 reduces the chances of GeForce RTX 1180, 1170, and 1160 being trimmed versions of Quadro RTX 8000, 6000, and 5000.
So, another possibility could be that GeForce RTX 1180 Ti is a trimmed version of Quadro RTX 8000, GeForce RTX 1180 of Quadro RTX 6000, and GeForce RTX 1170 and RTX 1160 of Quadro RTX 5000. Compared to Pascal's 471mm2 die size, Turing has a larger die size of 754mm2, which makes the latter more expensive. As NVIDIA prices its Ti versions between $1,000 and $1,500, it can justify the cost of the Turing-based GeForce RTX 1180 Ti.
In the final part of this series, we'll see what analysts think about NVIDIA's Turing.
Check out all the data we have added to our quote pages. Now you can get a valuation snapshot, earnings and revenue estimates, and historical data as well as dividend info. Take a look!