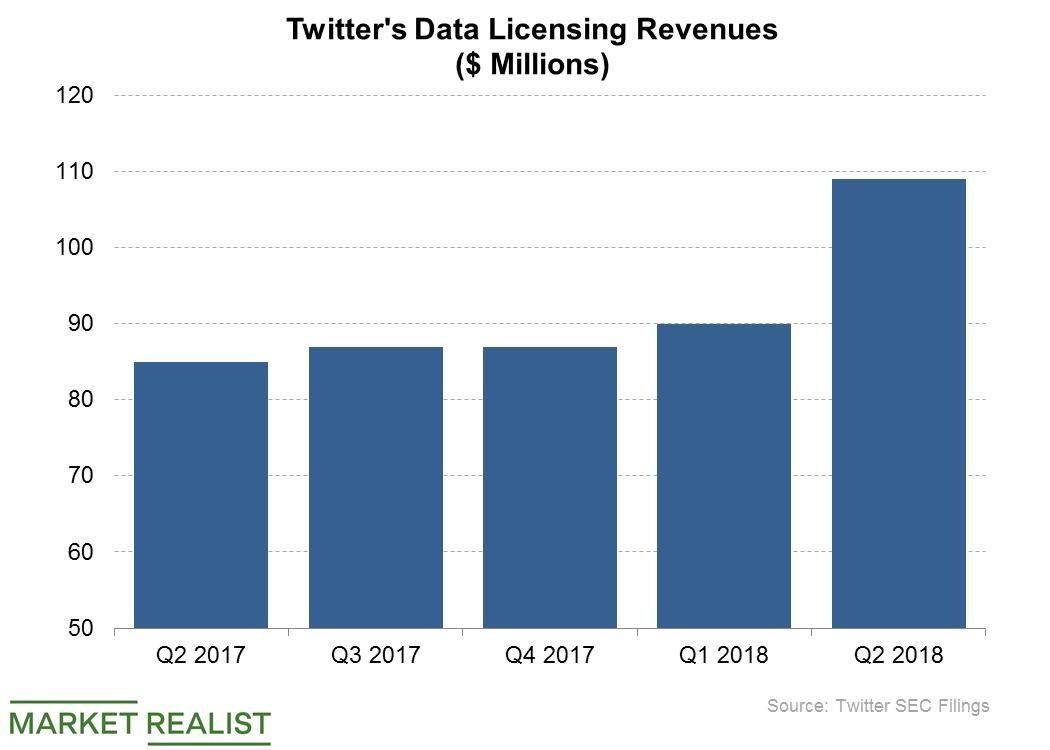 Twitter's Data Business Continues to Roar
Data business shows resilience
In the wake of the Facebook (FB) privacy scandals earlier this year, Twitter (TWTR) had to explain that its data licensing business was not built on secrets that could unravel, put the company to shame, and break down its high-margin data business.
The resilience of Twitter's data licensing business was showcased in the second quarter, during which growth in the business actually accelerated despite the privacy concerns stirred up by Facebook's data scandals and the stricter data privacy rules that went into effect in Europe in May. Twitter sees no privacy risk to its data licensing business because it sells access only to public data.
Article continues below advertisement
Data revenue jumped 29%
Twitter's revenue from licensing data and other non-advertising operations rose 29% YoY (year-over-year) to $109 million in the second quarter. Growth in its data licensing business accelerated from 20% in the previous quarter and 26% in the previous year's quarter.
Twitter generated revenue of $333 million from its data licensing business last year. Analysts see the business bringing in ~$387 million in revenue this year.
Data licensing is a high-margin business
Twitter has described data licensing as a high-margin business, meaning growth in the business is also seen as great news for its bottom line. Twitter posted a $100.1 million profit in the second quarter compared to the $353.2 million loss at Snap (SNAP) and the $10.7 million profit at Yelp (YELP) in the period. Facebook and Alphabet (GOOGL) posted profits of $5.1 billion and $3.2 billion, respectively, in the quarter.
Although Twitter's profit pales next to Facebook's and Alphabet's, it has come a long way. The second quarter marked the company's third straight quarter of profits after years of losses.