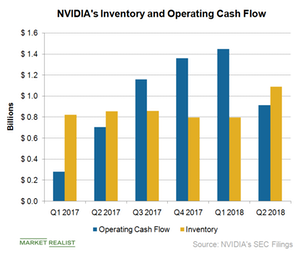 NVIDIA's Curiously High Inventory Levels
Cash flow
After enjoying windfall gains from the crypto boom, NVIDIA (NVDA) has seen its profits normalize. This normalization led to its revenue and profit falling sequentially, affecting its cash flow.
NVIDIA's operating cash flow fell 37% sequentially but rose 29.5% YoY (year-over-year) to $913 million, of which $128 million went toward capital expenditure. As NVIDIA outsources its manufacturing to TSMC, its capital requirements are limited to investing in the office space and data centers where its engineers work. In fiscal Q3 2019, it expects capital expenditure of $137.5 million at the midpoint.
Article continues below advertisement
Article continues below advertisement
In the fiscal first half of the year, cash flow tends to be weak for NVIDIA and peers Intel (INTC) and Advanced Micro Devices (AMD), as this is when they invest in developing new products. NVIDIA's operating cash flow was low in fiscal Q2 2019 as its profits fell and working capital requirements increased. Working capital comprises accounts receivable and payable, inventories, and short-term liabilities.
Inventory
NVIDIA's inventory was its balance sheet highlight. There have been rumors that the company has delayed its next-generation gaming GPU (graphics processing unit) due to having excess GPU inventory because of overestimating crypto-miner and gamer demand.
At the end of fiscal Q2 2019, NVIDIA's inventory rose 37% sequentially to $1.09 billion. During the company's fiscal Q2 2019 earnings call, CEO Jensen Huang stated that the inventory largely included lower-end GPUs, which could be used in computers targeting the back-to-school season. NVIDIA CFO Colette Kress added that the higher inventory balance was also because the company was preparing to launch its next-generation Turing GPU.
Accounts receivable and payable
NVIDIA's sequential inventory increase boosted its accounts receivable by 36% to $1.66 billion in fiscal Q2 2019. Its accounts payable rose 28% sequentially to $800 million due to the company transitioning to its Turing GPU architecture, which uses Samsung's (SSNLF) GDDR6 (graphics double data rate type six synchronous dynamic random-access memory). Next, we'll look at cryptocurrencies' impact on NVIDIA.
Check out all the data we have added to our quote pages. Now you can get a valuation snapshot, earnings and revenue estimates, and historical data as well as dividend info. Take a look!