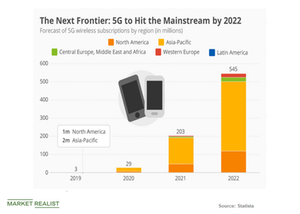 How Is T-Mobile Progressing in the 5G Race?
T-Mobile on 4G LTE
T-Mobile (TMUS) has been working on its network and distribution and is seeing encouraging results, especially in Greenfield markets. In the second quarter of 2018, T-Mobile's average download 4G (fourth-generation) LTE (Long-Term Evolution) speed was 31.8 megabits. It managed to offer the fastest LTE network among its peers in the past 18 quarters. T-Mobile is the first company to exceed an average download speed of 30 Mbps (megabits per second) in the past 18 quarters.
As of June 30, ~323 million people used 4G LTE technology. T-Mobile now targets 325 million people to use the LTE network in 2018.
Article continues below advertisement
The rollout of 600 MHz and 700 MHz spectrum 
T-Mobile has been deploying 600 MHz (megahertz) spectrum aggressively. In March, it launched its first 600 MHz flagship smartphone—the Samsung Galaxy S9—and then rolled out the LG G7 ThinQ in June. The company expects to begin more than a dozen new 600 MHz capable smartphones in 2018.
The company further stated that its 600 MHz phone will be upgradable to 5G (fifth-generation) with a software update. It will roll out the first nationwide 5G network in 30 cities starting in 2018, with national coverage in 2020. The network will use 600 MHz and harness 4G and 5G bandwidths simultaneously for dual connectivity. It will launch its first 5G smartphones in 2019.
Race to launch 5G technology
5G is a new, updated version of 4G LTE and will provide faster speeds, lower latency, and consistent coverage. While the currently used LTE mostly relies on small chunks of low-band and mid-band spectrum, 5G will handle everything from low-band frequencies to millimeter-wave spectrum. Based on research by Statista, the number of 5G wireless subscriptions is expected to reach ~545 million by 2022.
It seems that peer telecommunications companies AT&T (T) and Verizon Communications (VZ) have announced their limited-scale rollouts of 5G cellular services by the end of 2018. Amid the race to launch a 5G network, T-Mobile is looking to merge with rival Sprint (S), which is preparing for a 5G launch in the first half of 2019 by deploying game-changing 5G technologies such as Massive MIMO this year.