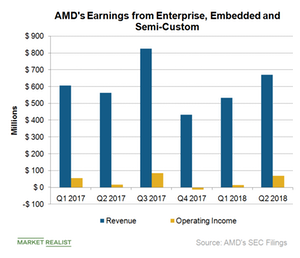 How AMD's Enterprise, Embedded and Semi-Custom Business Has Fared
AMD's Enterprise, Embedded and Semi-Custom segment
Advanced Micro Devices' (AMD) 2018 earnings are largely being driven by its CG (Computing and Graphics) segment due to the growing adoption of Radeon and Ryzen. However, AMD's EESC (Enterprise, Embedded, and Semi-Custom) earnings are also picking up with the growing adoption of its EPYC server CPUs (central processing unit).
In fact, AMD expects to take some of the server processor market share from Intel (INTC) in the coming two years. This expectation is driving AMD's stock to record highs and leading to a slide in Intel stock.
Article continues below advertisement
EESC revenue
In fiscal Q2 2018, EESC revenue rose 37% YoY (year-over-year) and 26% sequentially to $670 million driven by strength in the Semi-Custom and Enterprise segment. AMD's EPYC server CPU sales rose 50% sequentially due to orders from large data centers that buy in bulk.
AMD also realized sales of non-cancelable orders for semi-custom chips to Sony (SNE) and Microsoft (MSFT) in the quarter as per the new accounting standards it adopted in fiscal 2018. Embedded sales rose by double digits YoY driven by strong demand for embedded gaming, industrial, and medical imaging.
Operating income 
The growing mix of high-margin EPYC server CPUs and the realization of semi-custom sales this quarter boosted EESC's operating income by 331% YoY to $69 million in fiscal Q2 2018. Its operating margin stood at 10.3% in fiscal Q2 2018 as compared to 2.8% in fiscal Q2 2017.
AMD expects to secure a 5% share in the server processor market by the end of 2018, which means its EPYC revenue growth rate might triple by fiscal Q4 2018. Next, we'll look deeper into AMD's enterprise market and understand the factors that could drive its future growth.
Check out all the data we have added to our quote pages. Now you can get a valuation snapshot, earnings and revenue estimates, and historical data as well as dividend info. Take a look!