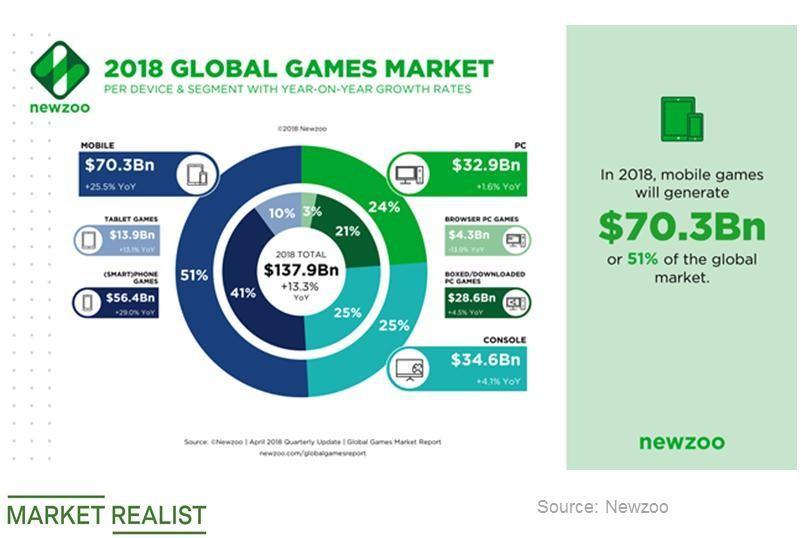 Facebook Stops Taking 30% of Instant Games Revenue
By Neha Gupta

Aug. 31 2018, Updated 10:30 a.m. ET
Facebook changes its mind on Instant Games revenue sharing
After Instant Games exited the beta phase in April, Facebook (FB) began monetizing the digital games platform through in-app purchases in May.
Instant Games hosts casual games. At first, Facebook earned from the platform by keeping 30% of the revenue generated through in-app purchases and passing the remaining 70% on to developers.
But the company changed that earlier this month, saying it would forgo its 30% share of Instant Games revenue generated on Android devices. Facebook decided to stop taking a cut of Instant Games in-app revenue as a way of making the platform more economically viable for developers.
Article continues below advertisement
Facebook felt the math wasn't adding up
Facebook appears to have realized that Instant Games developers haven't been compensated enough for their work. Although the company wanted developers to keep 70% of the revenue generated, it wasn't happening because Google (GOOGL) takes 30% of the in-app revenue made through its app store on Android devices. As a result, developers were only getting roughly 49% of Instant Games in-app revenue after Facebook took its 30% share.
Newzoo predicts that mobile games will generate $70.3 billion in revenue this year.
Facebook sells Instant Games ads
But forgoing its cut of Instant Games in-app revenue doesn't mean Facebook is left without a source of revenue from the platform. Besides in-app purchases, Facebook also monetizes the Instant Games platform via advertisements such as in-game ads aimed at players and shown during gameplay. There are also ads aimed at developers, whereby developers can pay Facebook to run user-acquisition ads on the Instant Games platform.
Video games are big business. Tencent (TCEHY) made $18.1 billion in gaming revenue last year, according to Newzoo estimates. Sony (SNE) and Microsoft (MSFT) generated $10.5 billion and $7.1 billion in gaming revenue, respectively, last year.