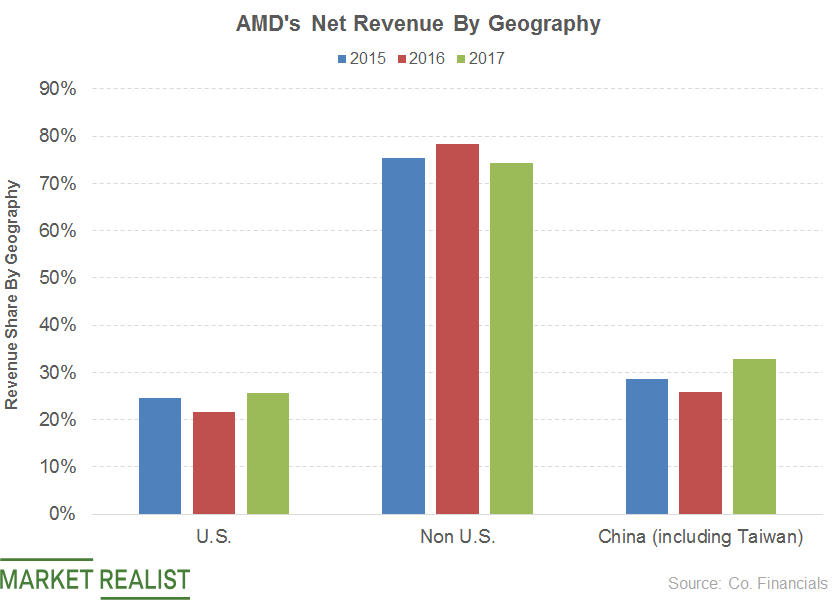 Analyzing AMD's Revenue Dependency on Geographies
By Amanda Lawrence

Aug. 7 2018, Updated 9:00 a.m. ET
What's driving AMD's revenues?
In the previous parts of this series, we have discussed Intel (INTC) and NVIDIA (NVDA) and their relationships with China. In the next few parts, we'll have a similar discussion on another major semiconductor player, Advanced Micro Devices (AMD). The company made its debut in the high-end PC, CPU (or central processing unit), and GPU (or graphics processing unit) markets in fiscal 2017.
AMD's Computing and Graphics segment contributed 57.0% of its revenues in fiscal 2017, compared to 46.0% in fiscal 2016. The segment is a CPU and GPU supplier for desktops, notebooks, and workstations. The revenue growth of the segment for fiscal 2017 was driven by robust crypto mining demand, with the Ryzen CPUs generating the numbers.
Article continues below advertisement
The Enterprise, Embedded, and Semi-Custom segment deals with low-margin semi-custom chips sold to Sony (SNE) and Microsoft (MSFT) for their PlayStation and Xbox consoles, respectively. The enterprise market holds significant promise, as data centers are focusing on AMD's EPYC server CPUs and Radeon Instinct GPUs.
AMD's involvement with China
AMD generated 74.0% of its net revenues from non-US regions in fiscal 2017. China (including Taiwan) contributed 33.0% to its net revenues. R&D (research and development) formed 22.0% of the company's revenues in fiscal 2017 versus 24.0% in both fiscal 2016 and fiscal 2015. Sony Interactive Entertainment LLC, Microsoft Corporation (MSFT), and HP Inc. (HPQ) generated 44.0% of AMD's net revenues in fiscal 2017.
AMD and China's leading retailer, JD.com (JD), partnered in January to expand the availability of AMD Ryzen processors and desktops in China.
AMD versus the market
AMD stock has gained 70.5% in the last three months. It has outperformed the NASDAQ Composite and the SPDR S&P Semiconductor ETF (XSD). The company's stock has beaten both the index and industry. The company has lost some stock value due to its exposure to cryptocurrency.
We'll discuss other significant events of 2018 that have driven the stock price of AMD in the next two parts.