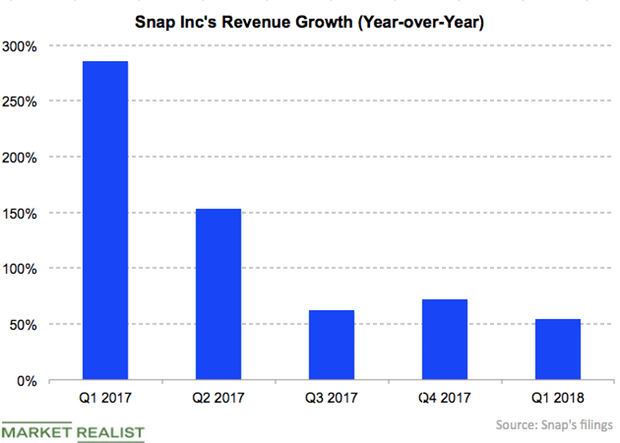 Why the Worst May Not Be Over for Snap
<p>Snap (SNAP) stock has rallied 27.0% since the sharp decline it saw after it announced disappointing first-quarter 2018 results in May.</p>
Snap stock has rallied over the last coupled of months
Snap (SNAP) stock has rallied 27.0% since the sharp decline it saw after it announced disappointing first-quarter 2018 results in May. Snap stock has had a tendency to move sharply either way after major news. The next big news for the stock will likely come on August 7, when the company is set to announce its second-quarter 2018 earnings.
Article continues below advertisement
Article continues below advertisement
Why Snap stock has lost its glimmer
The fact of the matter is that Snapchat faces immense competition from Facebook's (FB) Instagram, which now has one billion monthly active users. Also, Snap has remained expensive considering its decelerating growth rate. Snap is trading at 10.2x it estimated calender 2019 sales, while Facebook, which is still seeing an annual revenue growth rate of ~50%, is trading at 8.0x its estimated calendar 2019 sales.
In Q1 2018, Snap's revenue grew 54.1% to $230.6 million, whereas Facebook's revenue grew 49% to $13.3 billion. Additionally, Snap recorded a net loss of $385.8 million in its last quarter, with no sight of profitability. Profitability is a key factor in stock returns.
In contrast, the markets have rewarded Twitter (TWTR) for turning profitable in the last two quarters. Its stock has returned 140% in the last 12 months.